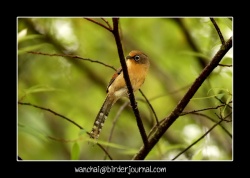 Genus: Actinodura
Description
This genus contains the seven Barwings from southeast Asia and two species of Minlas.
The barwings form a rather uniform group, sharing:
Brown general coloration
Dense black barring on wing (and mostly tail)
Erectile crown feathers
Long rictal bristles
Strong but short bill
The Minlas share some but not all of these.
Taxonomy
Actinodura is a genus in the Family Leiothrichidae.
It was formerly included in the family Timaliidae.
Four species are sometimes placed in their own genus Ixops.
Recent additions are Chestnut-tailed Minla and Blue-winged Minla transferred in from genus Minla.
References
Del Hoyo, J, A Elliott, and D Christie, eds. 2007. Handbook of the Birds of the World. Volume 12: Picathartes to Tits and Chickadees. Barcelona: Lynx Edicions. ISBN 978-8496553422
Clements, J. F., T. S. Schulenberg, M. J. Iliff, S. M. Billerman, T. A. Fredericks, J. A. Gerbracht, D. Lepage, B. L. Sullivan, and C. L. Wood. 2021. The eBird/Clements checklist of Birds of the World: v2021. Downloaded from https://www.birds.cornell.edu/clementschecklist/download/
Feng Dong, Fei Wu, Lu-Ming Liu, and Xiao-Jun Yang (2010) Molecular phylogeny of the barwings (Aves: Timaliidae: Actinodura), a paraphyletic group, and its taxonomic implications. Zoological Studies 49(5)
Recommended Citation
Pages in category 'Actinodura'
The following 8 pages are in this category, out of 8 total.