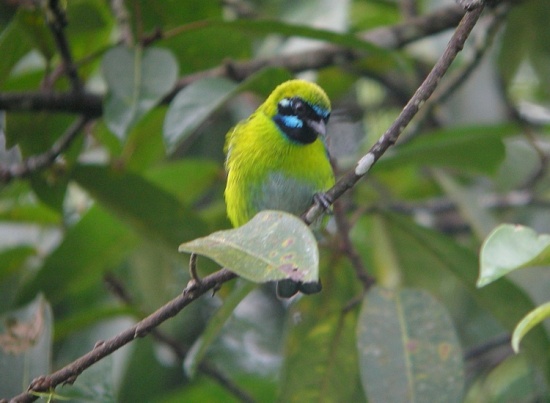 Tangara johannae
Identification
13 cm (5-5¼ in)
Green overall plumage
Black face and throat
Blue malar
Distribution
South America: found in the Pacific lowlands of western Colombia and north-western Ecuador.
Taxonomy
This is a monotypic species[1].
Habitat
Wet and pluvial forests, where they forage in the canopy and forest edges. Coastal lowlands and foothills to 1,000 m.
Behaviour
Diet
Their main diet consists of fruit and arthropods. They feed in pairs, family groups and mixed species flocks.
Breeding
They construct a cup nest, placed on a high mossy tree limb.
References
Clements, J. F., T. S. Schulenberg, M. J. Iliff, D. Roberson, T. A. Fredericks, B. L. Sullivan, and C. L. Wood. 2018. The eBird/Clements checklist of birds of the world: v2018. Downloaded from http://www.birds.cornell.edu/clementschecklist/download/
Handbook of the Birds of the World Alive (retrieved April 2019)
Recommended Citation
External Links