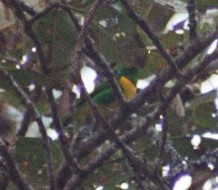 Chlorophonia occipitalis
Identification
A small, stocky bird, with a short tail and a stubby bill.
Males and females are green above, with a blue crown patch. Males have mostly yellow underparts with green flanks and a green throat. Female underparts are mostly green, with a yellow belly and undertail coverts.
Immature birds are green all over.
Distribution
The entire range of this species is limited to the highlands of southern Mexico, southern Guatemala, northern El Salvador, Honduras and western Nicaragua.
Taxonomy
This is a monotypic species[1].
The Blue-crowned Chlorophonia is sometimes considered conspecific with Golden-browed Chlorophonia Chlorophonia callophrys of Costa Rica and Panama.
Habitat
Humid evergreen forest and occcasionally in coffee plantations nearby. Howell and Webb (1995) give an altitudinal range of 1000 to 2500m. They are not commonly seen, but this may just be due to their cryptic colouration and preference for the canopy.
Behaviour
There are no published studies of this little-known species.
Diet
They feed on berries and are often found in the canopy, where they can be difficult to spot. Occasionally they will also feed on berries near ground level.
Breeding
Dickey and van Rossem (1938) commented that they collected birds in El Salvador in early February that were apparently paired, but that were not breeding. Three females that they collected in early May had obviously finished breeding some weeks previously. From this, they suggest that the breeding season is in March or April. On 2nd June, Thurber et al (1987) recorded an adult feeding a fledgling in El Salvador.
Vocalisation
A recording can be heard at the following website: http://www.ecologia.edu.mx/sonidos/mp3/chlorophonia%20occipitalis.mp3
References
Clements, J. F., T. S. Schulenberg, M. J. Iliff, B.L. Sullivan, C. L. Wood, and D. Roberson. 2013. The eBird/Clements checklist of birds of the world: Version 6.8., with updates to August 2013. Downloaded from http://www.birds.cornell.edu/clementschecklist/download/
Recommended Citation
External Links
A page on this species with photos can be found at http://tomjenner.com/mayanbirding/thebirds_blu_crown_chlorophonia.html