Alternative name: Diablotin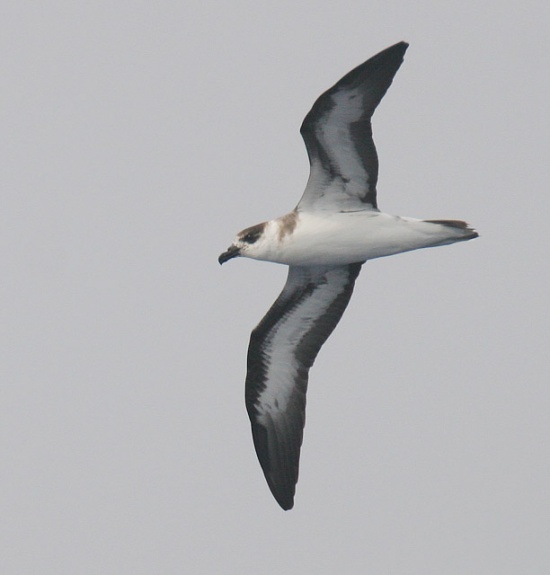 Pterodroma hasitata
Identification
Length 40cm. Wingspan 95cm.
Adult and juvenile are alike.
Brownish above shading to blackish on lower back, rump and uppertail coverts white and tail blackish-brown. Head has brownish-black cap extending to eye and nape, hindneck and underparts white with blackish smudge at side of breast. Upperwing brownish-black, darkest on primaries and secondaries, underwing white with dark tip, irregular dark trailing edge and diagonal black bar across the coverts. Iris dark brown, bill black and legs flesh-coloured.
Flight: typical of gadfly-petrel with high sweeping arcs and long glides on tilted wings. Some atypical birds have reduced white on hindneck and rump. Most Black-capped Petrels can be distinguished from Bermuda Petrel by white hindneck and rump but darkest of the atypical birds may not be separable except for larger size and stouter bill.
Similar Species
A large, long-winged gadfly-petrel most likely to be confused with rare Bermuda Petrel P. cahow.
Distribution
Caribbean and western North Atlantic. Breeds on Hispaniola in the Massif de la Seele in south-east Haiti, and now known from another site further west. In the Dominican Republic breeds in the Sierra de Bahoruco and also breeds at one site in Cuba in the Sierra Maestra of the southern coast. In 2013, two additional areas with breeding was identified in Dominican Republic using radar. Formerly more widespread with breeding in Jamaica (thought to be a melanistic race now extinct) and Guadeloupe and Dominica and possibly Martinique. Current breeding status in the Lesser Antilles is unknown but a few birds are observed on sea watch from Guadeloupe every year.
Disperses after breeding into the Atlantic to the western edge of the Gulf Stream and occurs north to Cape Hatteras in North Carolina, more rarely Virginia and Maryland. Also occurs south to north-eastern Brazil. Formerly regarded as rare in North American waters, this species is now known to be regular in small numbers with 40 per day recorded at Cape Hatteras. Extremely rare in the Western Palearctic with two British records, one from Norfolk in the spring of 1850 and the other a tideline corpse found in December 1984 in Humberside. In April 2002 there was a further record, a bird seen in the approaches to the Bay of Biscay off Spain.
Taxonomy
Subspecies[1]
P. h. hasitata (Black-capped Petrel):
P. h. caribbaea (Black-capped Petrel (Jamaican)):
Habitat
Breeds colonially in winter in burrows on steep inland cliffs and mountains, otherwise at sea.
Behaviour
Nocturnal at the breeding sites to avoid predation by gulls.
Breeding
It breeds on cliffs in mountains. Nests are made on a bed of plant debris within earth burrows or natural rock crevices. A single egg is laid.
Diet
The diet includes fish, squid and invertebrates; they occasionally scavenge behind fishing vessels.
References
Clements, JF. 2009. The Clements Checklist of Birds of the World. 6th ed., with updates to December 2009. Ithaca: Cornell Univ. Press. ISBN 978-0801445019.
Recommended Citation
External Links
Search the Gallery using the scientific name:
Search the Gallery Using the common name:
GSearch checked for 2020 platform.