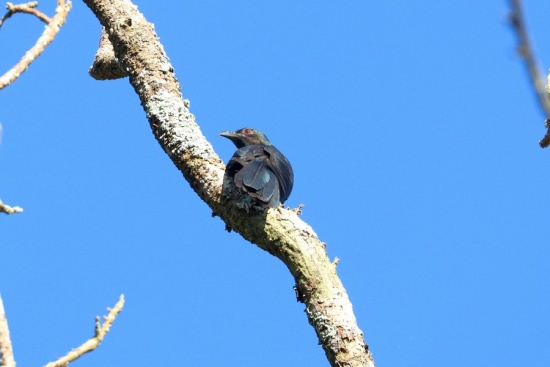 Alternative name: Eastern Koel
Eudynamys melanorhynchus
Identification
39–46 cm (15¼-18 in)
Male
Black plumage with blue-violet gloss
Black bill
Red eye
Female
Some females like males but with more blue-green gloss
Other females black-barred rusty-fawn below with throat and breast blackish or grey
A third group with barred rufous and black upperparts and blackish bars on underparts
Juveniles are all black or like black-and-buff females but with black head to throat.
Distribution
Black-billed Koel is limited to Sulawesi and Sula Islands.
Taxonomy
Black-billed Koel with two subspecies were split from Asian Koel and Australian Koel by some authorities, however, others still think that the best treatment is to consider all three as one species which would then be named Common Koel, Eudynamys scolopacea.
Subspecies
There are 2 subspecies[1]:
Habitat
Moist lowland forests. Also plantations, orchards and gardens in towns and villages.
From sea-level up to 1500m.
Behaviour
Diet
Feeds on fruit. Takes also sometimes insects, snails and flower nectar.
Forages in the canopy.
Breeding
A brood parasite. Known hosts are Slender-billed Crow, Sulawesi Crested Myna, drongos and orioles.
Movements
A resident species.
References
Clements, J. F., T. S. Schulenberg, M. J. Iliff, D. Roberson, T. A. Fredericks, B. L. Sullivan, and C. L. Wood. 2017. The eBird/Clements checklist of birds of the world: v2017, with updates to August 2017. Downloaded from http://www.birds.cornell.edu/clementschecklist/download/
Del Hoyo, J, A Elliot, and J Sargatal, eds. 1997. Handbook of the Birds of the World. Volume 4: Sandgrouse to Cuckoos. Barcelona: Lynx Edicions. ISBN 978-8487334221
Recommended Citation
External Links
Search the Gallery using the scientific name:
Search the Gallery Using the alternative common name:
GSearch checked for 2020 platform.