This article is incomplete.
This article is missing one or more sections. You can help the BirdForum Opus by expanding it.
Overview
Only 1km from the centre of Motherwell in the Clyde Valley, Barons Haugh is an area of marsh and flooded meadows, woodland, scrub and parkland along the east bank of the river.
Birds
Notable Species
Breeding species include Little Grebe, Common Sandpiper, Common Redshank and Common Kingfisher along the river and Garden Warbler, Sedge Warbler and Grasshopper Warbler, Tree Pipit and Whinchat in the woodland and scrub.
Passage waders are much in evidence in autumn with Spotted Redshank, Greenshank, Green Sandpiper and Wood Sandpiper and Ruff.
In winter the area attracts a regular flock of Whooper Swan as well as Gadwall, Eurasian Wigeon, Common Teal, Northern Shoveler, Common Pochard and Tufted Duck.
Rarities
To do
Checklist
Birds you can see here include:
Little Grebe, Grey Heron, Mute Swan, Whooper Swan, Eurasian Wigeon, Common Teal, Gadwall, Mallard, Northern Shoveler, Common Pochard, Tufted Duck, Common Goldeneye, Common Buzzard, Water Rail, Common Moorhen, Common Coot, Northern Lapwing, Dunlin, Ruff, Common Redshank, Spotted Redshank, Common Greenshank, Green Sandpiper, Wood Sandpiper, Common Sandpiper, Common Wood Pigeon, Common Kingfisher, Great Spotted Woodpecker, Sand Martin, Barn Swallow, Tree Pipit, Grey Wagtail, Whinchat, Common Grasshopper Warbler, Sedge Warbler, Garden Warbler, Common Whitethroat, Goldcrest, Blue Tit, Great Tit, Long-tailed Tit, Eurasian Nuthatch, Common Starling, Eurasian Bullfinch, Reed Bunting
Other Wildlife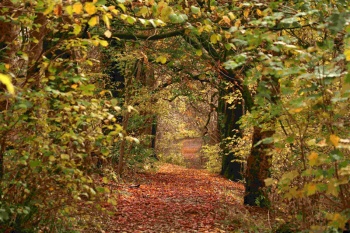 Grey Squirrel regularly seen. Roe Deer, Red Fox and Badger are present but rarely seen.
Site Information
History and Use
To do
Access and Facilities
The reserve is reached via Adele Street, opposite the Civic Centre, which leads to North Lodge Avenue off which is White Walk which leads to the reserve entrance. There are four hides overlooking the marshland and a marked trail around it.
Grid Ref: NS756553
Contact Details
Tel: 0141 331 0993 (RSPB)
External Links

Content and images originally posted by Steve
Reviews
Gordon's review When I lived in Glasgow we used to visit every second weekend or so throughout the year as there is ALWAYS something of interest. I remember the Marsh Hide as being one of the best places to get really close views of Green Sandpipers - and often a Water Rail. As the Haugh is relatively small, good views can usually be had of the waterfowl - from the footpaths or from the 4 hides. The woodland holds a good variety of passerines - resident and passage and summer visitors.
Pros
Excellent variety of habitats with easy access. Every chance of meeting very friendly local birders.
Cons
glasgowbirder's review My favourite spot for birding as I don't own a car and the reserve is only 15-20mins walk from Airbles train station. The variety of birds is incredible: raptors, finches, waders, ducks, warblers, rails and owls can all be seen. There are also tons of other wildlife to spot. I've seen deer, otters, frogs, toads, foxes and lots of interesting butterflies.
The Haugh is at its best from autumn to early spring but there are regular rarities all year round. A Spotted Crake, Corncrake, Great Egret, Long-Eared Owl and a Temnick's Stint have all turned up.
You can also do a decent circular walk through the reserve up to Clyde Country Park round the resevoir and back. I'd say about 5 miles in total.
Pros
Ease of access by public transport. Good variety of birds and other wildlife. Friendly local birders.
Cons
davie abraham's review I have seen some excellent, mainly semi-rare birds here & in the adjoining Carbarns pool area since taking up birding around 6 years ago.
It is one of, if not the, best sites in Scotland to see the elusive Spotted Crake on passage, mainly August-September,as well as a great place to see Water Rail. I have seen 5 Spotted Crake over the past 4 years.
My patch list now stands at 158 which is pretty good given the inland location. Pros
Within 15 minutes drive from the M74 at Hamilton
Cons
Hides attract local youths who sometimes use them as drinking dens
Mainly Friday & Saturday nights
border reiver's review Always something of interest to see. The link to the site in the 1st review is well worth a visit to see what's about Pros
Easy access via public transport
Maltings's review Visited first time on cold wet windy March afternoon, water levels were high and work in progress on fences, excavation to improve lagoons etc. Visible birds relatively few but saw Little Grebes, Goosanders (on river adjacent) and more. Will go back. Anyone care to suggest best time of day? Pros
Cons