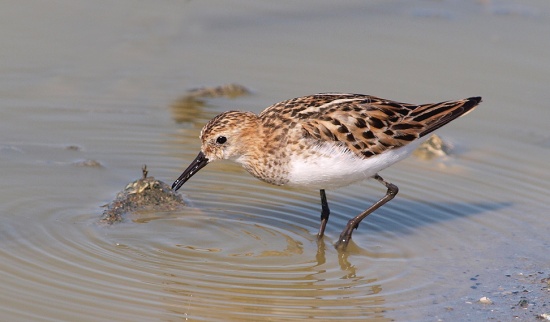 Calidris minuta
Identification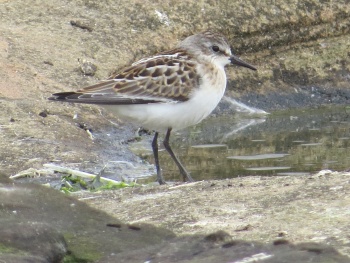 Length 12–14 cm (4¾-5½ in), wingspan 28–31 cm, weight 17–44 g

A small stint with black legs and short, thin black bill with a fine tip. Sexes are similar.
Primary projection long, usually 2-3 primary tips visible beyond the tertials. In flight shows a white wing bar and white margins to the rump.

Breeding plumage
Mottled above with feathers with black centres and broad rufous brown fringes, and white below.

Winter
Plain grey above, white below.

Juvenile
Similar to summer adult, but with a more obvious white double V on the back, and less orangey-toned around face. Supercilium divides just above the eye, dark loral patch and ear coverts. Diffuse brown streaking to neck and breast.
Similar Species
Red-necked Stint: very slightly larger with somewhat shorter legs. Bill tends to be blunt-tipped. Primary projection not as long.
Semipalmated Sandpiper: slightly larger; adult summer and juveniles greyer-toned with less extensive or none of the rufous tones of Little Stint. Juvenile lacks or only has an inconspicuous white V on back.
Western Sandpiper: bigger with longer legs, bill long and decurved, looks slimmer than Little Stint.
Dunlin: conspicuously larger than Little Stint, plumages similar mix of browns above and white below; in summer the black belly is obvious, and in juveniles, dark streaking on flanks. Bill is longer and decurved.
Distribution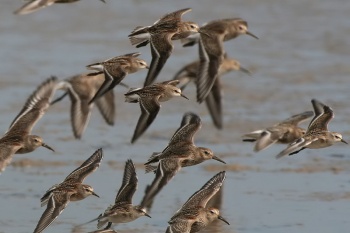 Breeds on arctic tundra in far northern Europe and northwestern Asia. Winters in the Mediterranean, Africa and south Asia; very small numbers wintering north to southwest England.
Casual vagrant to both coasts of the United States and also to Australia.
Taxonomy
Closely related to Red-necked Stint. This is a monotypic species[1].
Habitat
Coastal and island tundra in summer; sandy beaches, mudflats, estuaries, and muddy pools, both fresh and salt water, in winter.
Behaviour
Breeding
It nests on a bare ground scrape laying 3-5 eggs. Male and female may incubate separate clutches.
Diet
Diet includes small invertebrates picked off the mud.
Vocalisation
References
Clements, J. F., T. S. Schulenberg, M. J. Iliff, D. Roberson, T. A. Fredericks, B. L. Sullivan, and C. L. Wood. 2017. The eBird/Clements checklist of birds of the world: v2017, with updates to August 2017. Downloaded from http://www.birds.cornell.edu/clementschecklist/download/
Nils van Duivendijk Advanced Bird ID Handbook - The Western Palearctic ISBN 978-1-78009-022-1
J. Gooders Larousse Fieldguide to the Birds of Britain and Europe (1995) ISBN 1-85697-0014-8
K.Vinicombe, A. Harris, L. Tucker The Helm Guide to Bird Identification ISBN 978-1-4081-3035-3
Handbook of the Birds of the World Alive (retrieved August 2016)
Recommended Citation
External Links
Search the Gallery using the scientific name:
Search the Gallery using the common name:

Search the Gallery for Little Stint videos:
GSearch checked for 2020 platform.