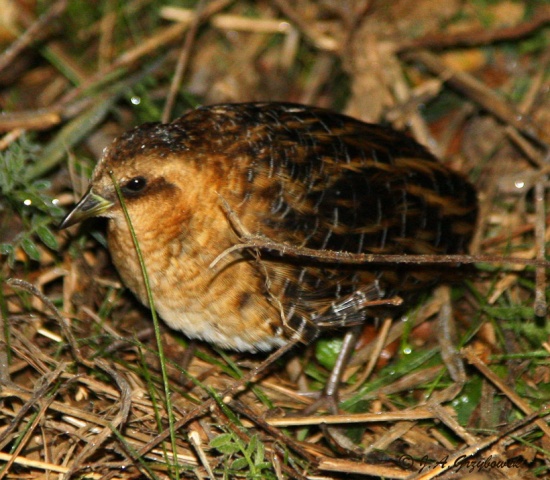 Coturnicops noveboracensis
Identification
16–19 cm (6-7½)
A secretive and small rail with a conical bill.
The buffy stripes on the back and the dark and yellow pattern on the face distinguish this species from the juvenile Sora. Also note white secondaries on flushed bird.
Distribution
Disjunct and local in marshes of Canada, northern U.S.; central Mexico
Taxonomy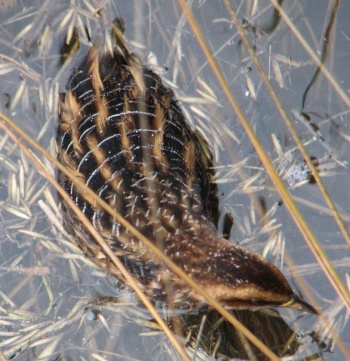 Subspecies
There are 2 subspecies[1]:
Locally in Río Lerma (central Mexico)
Status of goldmani
Last recorded in 1964. In Mexico there's been much habitat destruction due to marsh drainage; however, unexplored, inaccessible marshes could allow a small population of this skulking subspecies to remain unnoticed indefinitely.
Habitat
Marshes, usually those with heavy grass cover. On the Gulf coast of the southern United States often winters in rice fields.
Behaviour
Very secretive, most easily registered by sounds given at night.
Diet
Their diet consists of small freshwater snails, beetles, a variety of other small insects and earthworms.
Vocalisation
The call is likened to the noise made by tapping together two small stones.
References
Clements, J. F., T. S. Schulenberg, M. J. Iliff, D. Roberson, T. A. Fredericks, B. L. Sullivan, and C. L. Wood. 2015. The eBird/Clements checklist of birds of the world: v2015, with updates to August 2015. Downloaded from http://www.birds.cornell.edu/clementschecklist/download/
Handbook of the Birds of the World Alive (retrieved November 2014)
Recommended Citation
External Links