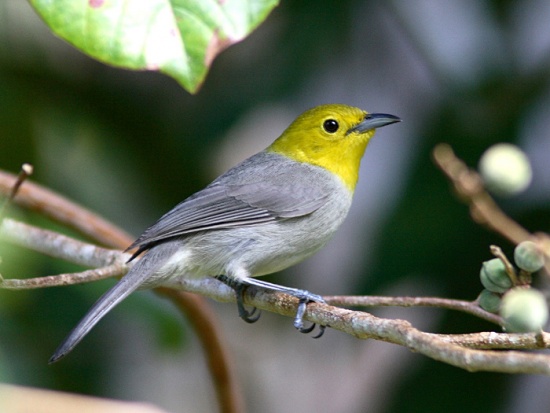 Teretistris fernandinae
Identification
Plain grey upperparts
Paler grey underparts
Yellow head
Distribution
Western Cuba including Isle of Pines and Cayo Cantiles.
Taxonomy
This is a monotypic species[1].
Habitat
Scrubby areas and open semi-forest with vines; range from the coast to mid elevation hills.
Behaviour
Except during breeding, this species is almost always seen as part of mixed species flocks, other species are attracted to the company of this one.
Feeds low to medium after almost any type of small food item.
References
Clements, JF. 2009. The Clements Checklist of Birds of the World. 6th ed., with updates to December 2009. Ithaca: Cornell Univ. Press. ISBN 978-0801445019.
Raffaele et al. 1998. Birds of the West Indies. Christopher Helm, London. ISBN 0713649054
Arthur Grosset
Recommended Citation
External Links