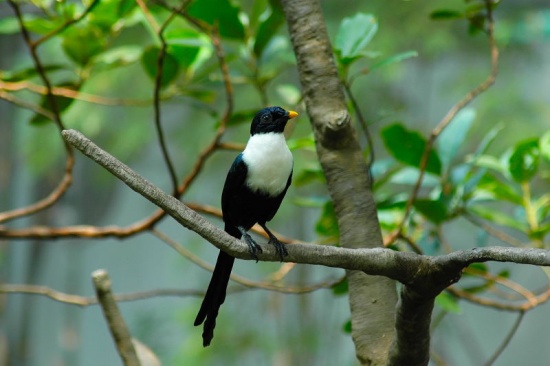 Alternative names: Buton Starling; Buton Myna; Sulawesi Magpie
Streptocitta albicollis
Identification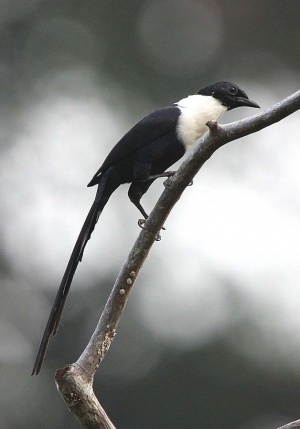 50cm, 19¾ in; (including tail 25-30cm). A large myna with a very long tail.
Black head, glossed purple, with short crest
White mantle and breast forming a broad collar
Black rest of plumage with steel-blue and green iridiscence
Black wing with purple sheen
Black, very long and graduated tail
Brown eye surrounded by dark bare skin
Black bill, with yellow tip in albicollis and all-black in torquata
Sexes similar. Juveniles have a smaller crest, a shorter tail and (in albicollis) less yellow on bill.
Distribution
Endemic to Sulawesi and some adjacent islands, Indonesia. Has been recorded on Flores.
Poorly known but obviously widespread and common.
Taxonomy
May form a superspecies with Bare-eyed Myna.
Subspecies
Two subspecies recognized[1]:
S.a.torquata in northern Sulawesi, Lembeh Island and Togian Islands
S.a.albicollis in southernSulawesi, Muna and Butung islands
Habitat
Primary and secondary forest. Occurs from sea-level up to 1200m.
Behaviour
Usually seen in small groups of two or three birds, sometimes up to five. Joins mixed-species flocks.
Diet
Feeds mainly on fruit. Takes also invertebrates and sometimes small vertebrates (lizards).

Breeding
Breeding season September to October. Presumably a monogamous species. Nest in holes in dead trees. No other information.
Movements
Presumably a resident species.
References
Clements, J. F., T. S. Schulenberg, M. J. Iliff, D. Roberson, T. A. Fredericks, B. L. Sullivan, and C. L. Wood. 2017. The eBird/Clements checklist of birds of the world: v2017, with updates to August 2017. Downloaded from http://www.birds.cornell.edu/clementschecklist/download/
Del Hoyo, J, A Elliott, and D Christie, eds. 2009. Handbook of the Birds of the World. Volume 14: Bush-shrikes to Old World Sparrows. Barcelona: Lynx Edicions. ISBN 978-8496553507
Recommended Citation
External Links