Alternative names: Greater Streaked Honeyeater; Greater Sulawesi Honeyeater; White-eared Honeyeater; Meyer's Honeyeater, Mengkoka Honeyeater; Spot-headed Honeyeater; Sarasin's Myza; Spot-headed Honeysucker; Greater Myza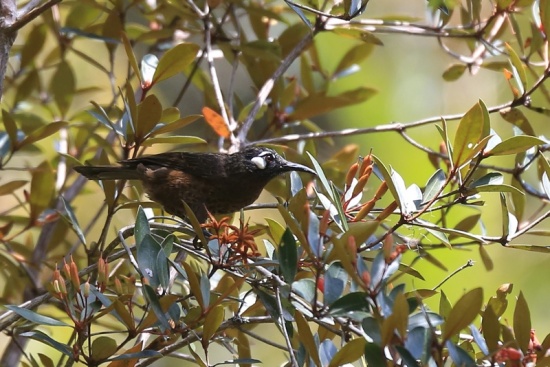 Identification
20 cm.
Blackish top and side of head and neck with fine streaking
Fine blackish supercilium and lores
Large violet or whitish ear-patch
Blackish chin and throat diffusely streaked or mottled
Dark brownish-black upperparts heavily streaked grey
Brownish-black upperwing with reddish-brown feather edges
Dark reddish-brown underparts with fine dark streaking on breast and belly
Sexes similar but males larger than females. Juveniles undescribed.
Similar species
The only other similar honeyeater on Sulawesi is Dark-eared Myza which is smaller and lacks the large ear-patch.
Distribution
Sulawesi endemic. South East Asia: Indonesia: Greater Sundas. A restricted-range species, still common in suitable habitat.
Taxonomy
Subspecies
Myza sarasinorum has three subspecies:[1]
Habitat
Montane rainforest.
Occurs from 1700 m to 2800 m, replaces Dark-eared Myza at higher elevations.
Behaviour
Diet
Feeds on nectar, takes also insects.
Forages mostly in the middle storey and in the canopy. An active and aggressive species with rapid movements. Occasionally in mixed-species flocks.
Breeding
A female in breeding conditions recorded in July. No other information.
Movements
Probably a sedentary species.
References
Clements, J. F., T. S. Schulenberg, M. J. Iliff, D. Roberson, T. A. Fredericks, B. L. Sullivan, and C. L. Wood. 2018. The eBird/Clements checklist of birds of the world: v2018. Downloaded from http://www.birds.cornell.edu/clementschecklist/download/
Gill, F and D Donsker (Eds). 2014. IOC World Bird Names (version 4.4). Available at http://www.worldbirdnames.org/.
Handbook of the Birds of the World Alive (retrieved November 2014)
Recommended Citation
External Links