Alternative names: Dark-eared Honeyeater; Lesser Streaked Honeyeater; Lesser Myza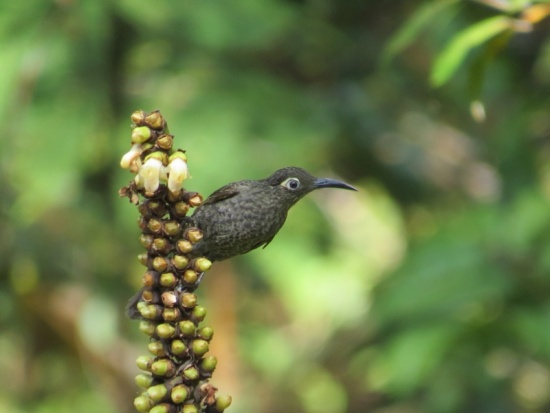 Myza celebensis
Identification
17 cm.
Grey to tawny-olive top of head and neck, finely streaked dark olive-brown
Largely dark olive-brown supercilium
Dark olive-brown line beneath eye curving up behind eye to meet the rear supercilium and enclosing a bold whitish orbital ring
Brownish-grey upperparts, streaked and mottled dark olive-brown to blackish
Dark olive-brown upperwing with pale olive to yellow-olive outer edges of remiges
Yellowish-grey breast merging into dark-olive brown rest of underparts, scaled and streaked paler yellowish-grey
Glossy black and decurved bill
Sexes similar, juveniles undescribed.
Similar species
The only other similar Honeyeater on Sulawesi is White-eared Myza. It's bigger and has a large bare violet ear-patch
Distribution
Sulawesi endemic. South East Asia: Indonesia: Greater Sundas. A widespread and common restricted-range species.
Taxonomy
Subspecies
There are 2 subspecies
Mountains of north, central and south-eastern Sulawesi
Mountains of southern Sulawesi
Habitat
Moist montanes, mainly in primary forest.
Occurs from c. 900 m up to 2500 m. Replaced at higher elevations by White-eared Myza.
Behaviour
Diet
No details published. Forages mainly in lower levels of the forest but also in the canopy in crowns of flowering trees.
Usually seen singly or in pairs, sometimes in mixed-species flocks.
Breeding
Not much known. Females with brood patches recorded in March and July.
Movements
Probably a sedentary species.
References
Clements, J. F., T. S. Schulenberg, M. J. Iliff, D. Roberson, T. A. Fredericks, B. L. Sullivan, and C. L. Wood. 2014. The eBird/Clements checklist of birds of the world: Version 6.9., with updates to August 2014. Downloaded from http://www.birds.cornell.edu/clementschecklist/download/
Gill, F and D Donsker (Eds). 2014. IOC World Bird Names (version 4.4). Available at http://www.worldbirdnames.org/.
Handbook of the Birds of the World Alive (retrieved November 2014)
Recommended Citation
External Links