Patagioenas leucocephala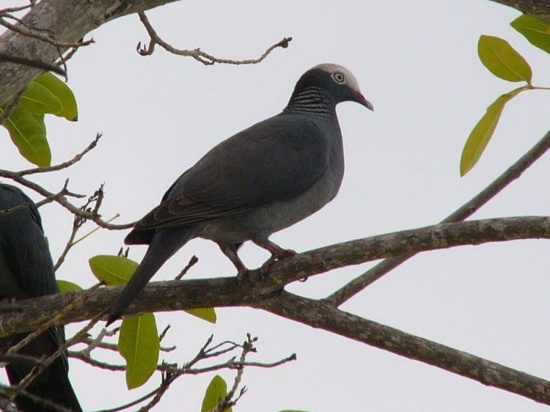 Identification
Adult is mostly dark grey with white crown reaching just below the eye. A scaly area on the back of the neck is greenish. The juvenile mostly misses the white crown.
Similar species
The juvenile is somewhat similar to Scaly-naped Pigeon, but the colors of the neck are different.
Distribution
A Caribbean species, the White-crowned Pigeon reaches North America only on the Florida Keys and extreme southern mainland Florida, including Everglades National Park. It is found most often in the Greater Antilles and the Bahamas with scattered distributions in the Yucatán Peninsula in Mexico, islands near Panama, and the Lesser Antilles. It is a resident of Ria Lagartos, a Mexican IBA on coastal Yucatán.
Over most of its range, the species is declining. It remains stable or only slightly declining, however, in Florida and Jamaica.
Partially nomadic; can fly great distances over water. They island hop in the Bahamas and Florida Keys in search of food.
Taxonomy
This is a monotypic species[1]. It has previously been placed in genus Columba.
Habitat
Nests on mangrove islands and feeds in evergreen and semi-evergreen woodlands.
Behaviour
Diet
Strict frugivore
Breeding
Timing differs from area to area with small clutches of about 2 eggs. Nests are well concealed as they are located in dense mangrove thickets. Up to three broods are possible in one season. Often nests colonially. The difference between nesting and feeding habitats sometimes cause long flights to feed young.
References
Clements, JF. 2009. The Clements Checklist of Birds of the World. 6th ed., with updates to December 2009. Ithaca: Cornell Univ. Press. ISBN 978-0801445019.
Recommended Citation
External Links