Alternative name: Ethiopian Rock Pigeon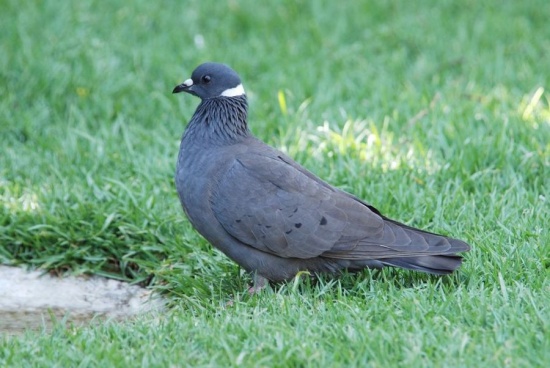 Columba albitorques
Identification
28-31 cm.
Slate grey plumage
Prominent white collar across back of nape
White primary coverts, forming a white patch on the wings in flight
Some black chequering on secondary wing-coverts
Black tail with inconspicious grey central band
Sexes similar, juveniles with pale edges to crown feathers.
Distribution
Highlands of Eritrea and Ethiopia.
A restricted-range species, common to abundant in its small range.
Taxonomy
This is a monotypic species.
Habitat
Occurs in woodland, grassland and cultivated area above 1800 m, near cliffs, gullies, villages or rock outcrops. Also found in cities like Addis Ababa.
Usually above 2400 m, foraging in fields up to 4400 m.
Behaviour
Diet
Feeds on seeds, grains and newly sown wheat.
Breeding
Breeds all year round. The nest is placed in a hole in a cliff, a cave or a building. Lays 2 eggs.
Movements
A sedentary species. Moves daily from high-altitude foraging sites to low-altitude roosts, sweeping down steep slopes at very high speed.
References
Clements, J. F., T. S. Schulenberg, M. J. Iliff, D. Roberson, T. A. Fredericks, B. L. Sullivan, and C. L. Wood. 2014. The eBird/Clements checklist of birds of the world: Version 6.9., with updates to August 2014. Downloaded from http://www.birds.cornell.edu/clementschecklist/download/
Handbook of the Birds of the World Alive (retrieved November 2014)
Recommended Citation
External Links