Alternative name: Galapagos Albatross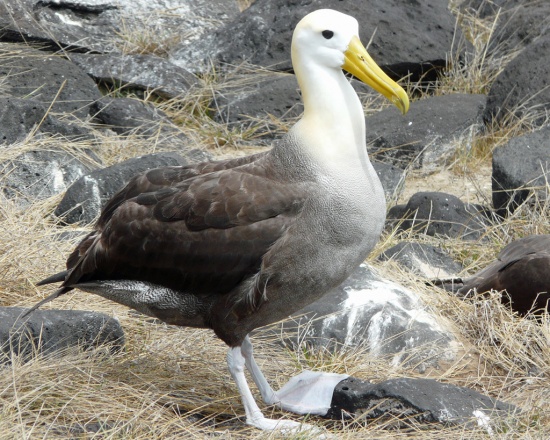 Phoebastria irrorata
Diomedea irrorata
Identification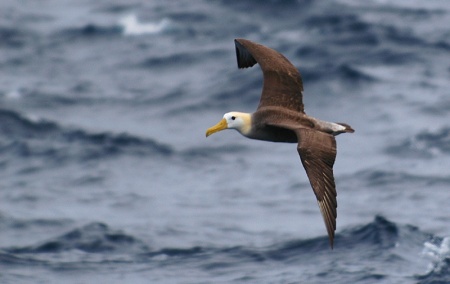 Length: 85-93cm. Wingspan 230-240cm.
The only albatross to occur regularly in both breeding and wintering areas although vagrant of other species are possible. Adult: Pale brown on back finely barred with grey and white in narrow wavy lines becoming coarser towards rump, wings and tail darker brown. Below, upper breast whitish, remainder barred as upperparts darkest on flanks and belly. Head yellowish-white, buffier on crown and nape, hindneck faintly barred brown. Iris dark brown, bill pale yellowish, legs blue-grey. Juvenile: as adult but bill pale horn-coloured and head whiter. The largest bird in the Galapagos Islands.
Distribution
Breeds in the Galapagos Islands on Hood Island where about 12,000 pairs breed in colonies along the south coast and on south-facing slopes of the hills, at Punta Suarez in the west and Punta Cevallos in the east. Also breeds in small numbers on the Las Platas Islands off Ecuador. Disperse eastwards after breeding and then occur off Ecuador and Peru between 40N and 120S with the main concentrations in the Gulf of Guayaquil, Ecuador and off the Lobos de Tierra Islands, Peru. Recorded as vagrant in Panama.
Taxonomy
Subspecies
This is a monotypic species[1]
Diomedea vs. Phoebastria
Genera Phoebastria and Thalassarche formerly placed in the Diomedea, but now considered by virtually all authorities (Clements, Howard & Moore, AOU, BOU, SACC) to be separate genera in light of Nunn et al. (1996) and Penhallurick & Wink (2004).
Habitat
Present on breeding islands from late March until mid-January otherwise at sea. Young birds probably remain at sea off Ecuador and Peru until at least their third year before returning to Galapagos. Does not follow ships.
Behaviour
Diet
Squid and fish, sometimes refuse from ships.
Breeding
Breeds in small loose colonies. Single dull white egg with fine brown speckling laid in mid-April to June on bare ground. Incubated by female for 60 days. Both sexes tend young for 14 days after which young moves to hiding place in dense scrub. Fledges at about 6 months with last young fledging in January. Breeding fails completely in some years.
Vocalisation
Loud whoo-oo when displaying, otherwise a hoarse croaking.
References
Clements, J. F., T. S. Schulenberg, M. J. Iliff, D. Roberson, T. A. Fredericks, B. L. Sullivan, and C. L. Wood. 2018. The eBird/Clements checklist of birds of the world: v2018. Downloaded from http://www.birds.cornell.edu/clementschecklist/download/
Carboneras, C., Jutglar, F. & Kirwan, G.M. (2018). Waved Albatross (Phoebastria irrorata). In: del Hoyo, J., Elliott, A., Sargatal, J., Christie, D.A. & de Juana, E. (eds.). Handbook of the Birds of the World Alive. Lynx Edicions, Barcelona. (retrieved from https://www.hbw.com/node/52501 on 25 December 2018).
Waved Albatross (Phoebastria irrorata), In Neotropical Birds Online (T. S. Schulenberg, Editor). Cornell Lab of Ornithology, Ithaca, NY, USA. retrieved from Neotropical Birds Online: https://neotropical.birds.cornell.edu/Species-Account/nb/species/wavalb
Recommended Citation
External Links
GSearch checked for 2020 platform.1