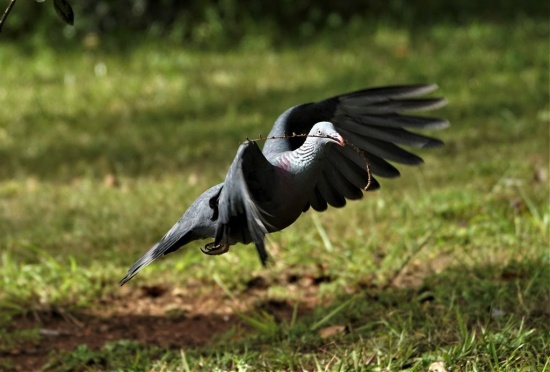 Alternative name: Long-Toed Pigeon, Madeira Laurel-pigeon
Columba trocaz
Identification
38–40 cm (15-15¾ in)
Grey overall plumage
Pink breast
Silvery neck patch
Red toes
White tail stripe
Red bill

Female is smaller than the male but not easily distinguished in the field.
Distribution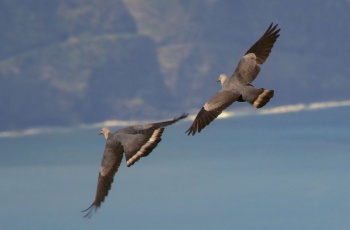 Taxonomy
This is a monotypic species[1].
Habitat
Mountain laurel forests, often in the clouds.
Behaviour
Breeding
They nest in caves (sometimes trees or amongst the heath); their clutch contains 1 or 2 white eggs. Both sexes incubate the egg and feed the young.
Diet
The diet consists mostly of fruit, particularly laurel berries, leaves and grain; they also feed on cabbages.
References
Clements, J. F., T. S. Schulenberg, M. J. Iliff, S. M. Billerman, T. A. Fredericks, B. L. Sullivan, and C. L. Wood. 2019. The eBird/Clements Checklist of Birds of the World: v2019. Downloaded from http://www.birds.cornell.edu/clementschecklist/download/
Madeira Birds
Handbook of the Birds of the World Alive (retrieved Apr 2018)
Recommended Citation
External Links