This article is incomplete.
This article is missing one or more sections. You can help the BirdForum Opus by expanding it.
Todiramphus enigma
Todirhamphus enigma, Halcyon enigma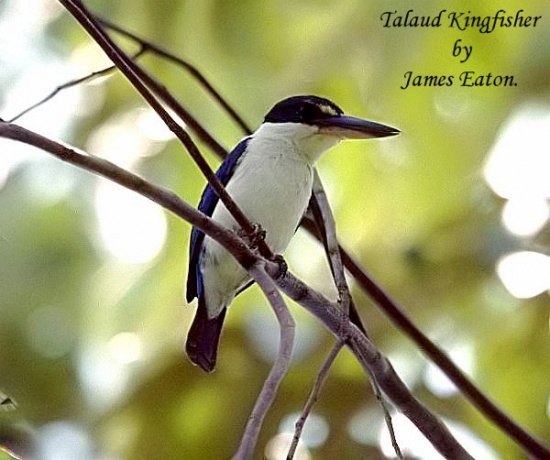 Identification
Nearly impossible to distinguish from Collared Kingfisher: this specie's validity is uncertain [2] and it can be included in Collared as a subspecies. Compared with Collared:
15% smaller
tail shorter
bill shorter
upperparts (somewhat) greener
Reference [3] suggests:
Field characters
The two forms were easily identifiable in the field by the differences
in colouration and size noted by Eck (1978). The following description
is based on features noted in the field.
Enigma. Eye dark; legs dark; bill - upper mandible black, lower
mandible basal half horn, distal half black. Clean white underparts,
slightly washed with buff on the throat. The white extends round the
neck to form a broad, well marked collar, bordered above by black, the
black not extending onto ear-coverts. Small white spot on the nape.
Crown, forehead, ear-coverts and upper nape are uniform deep
bottle-green with a blue tinge. Loral patch is white and extends to
reach the eye. Back and mantle are dirty olive green, contrasting with
the green—blue of the wings. The wings are darkest on flight feathers;
scapulars same colour as back and mantle; coverts light blue and
slightly iridescent. Rump electric blue, lighter than iridescent blue tail.
Chloris. In contrast has a black band extending from the eye to the
black collar. The upperparts and wings of chloris are a uniform blue
without green hints, and chloris has only a small white loral patch,
which never reaches the eye.
In the field enigma is most easily separated by its shorter bill that
appears less heavy, partly because the lower mandible is less protruding
and more extensively coloured horn from the base. Enigma also has a
noticeably shorter tail compared to chloris. Enigma characteristically
adopts a slightly hunched posture when perched, leading to a dumpy
appearance.
However, comparison of Ebird headline images suggests that these characters are of dubious utility with (near?) complete overlap between Talaud and Collared. The voice is said to be similar to but distinguishable from Collared's (slightly faster, more shrill: might the smaller size account for this?). Talaud supposedly favours inland sites and is replaced by Collared on the coast
Distribution
The Talaud Islands (main distribution) and the North East tip of Sulawesi. South East Asia: Indonesia: Greater Sundas. The basis for records from Sulawesi (especially Tangkoko) is uncertain although there are many reports from there.
Taxonomy
Was previously Halcyon enigma. The Sibley-Monroe spelling of the scientific name (Todirhamphus enigma) is incorrect. Clements and Howard & Moore both use Todiramphus enigma. More details in this discussion.
Similar species
See above discussion under Identification.
Habitat
Moist lowland forests and rivers.
Behaviour
References
Clements, J. F., T. S. Schulenberg, M. J. Iliff, D. Roberson, T. A. Fredericks, B. L. Sullivan, and C. L. Wood. 2017. The eBird/Clements checklist of birds of the world: v2017, with updates to August 2017. Downloaded from http://www.birds.cornell.edu/clementschecklist/download/
Eaton, J.A.. van Balen, B. Brickle, N.W., B Rheindk F.E. (2021). Birds of the Indonesian Archipelago, Greater Sundas and Wallacea. Lynx Edicions. Barcelona. Second Edition
Riley, J., Hicks, D. M. and Wardill, J. (1998) The taxonomic status of Halcyon enigma on the Talaud islands, Indonesia. Bulletin of the British Ornithologists' Club. Vol. 118: 113 – 117
Recommended Citation
External Links