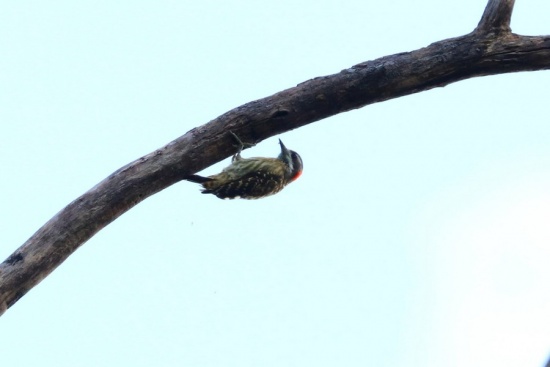 Yungipicus temminckii
Alternative name: Sulawesi Woodpecker
Dendrocopos temminckii
Identification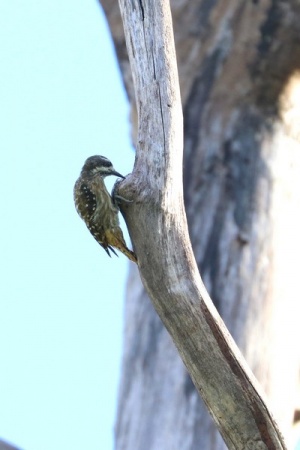 13–14 cm (5-5½ in); a small Woodpecker
Barred upperparts
Streaked off-white breast
Prominent white eye-stripes and cheek-stripes on an otherwise dark head

Male has a red neck collar, which is lacking in the female.
No confusion is likely within its limited range as the only other Woodpecker on Sulawesi is the large Ashy Woodpecker
Distribution
Endemic to Sulawesi, Buntung and Togian Islands. South East Asia: Indonesia: Greater Sundas.
Taxonomy
This is a monotypic species[1].

Habitat
Moist lowland forests and moist mountains, also in lightly wooded cultivation and occasionally in wooded areas in towns.[2]
Behaviour
Diet
Described as moderately common but often overlooked as it forages in the upper mid-storey and canopy. Their diet is unknown
Breeding
They nest in a hole in a dead tree.
Vocalisation
Call: a descending nasal trill and it drums weakly. [2]
References
Clements, J. F., T. S. Schulenberg, M. J. Iliff, D. Roberson, T. A. Fredericks, B. L. Sullivan, and C. L. Wood. 2017. The eBird/Clements checklist of birds of the world: v2017, with updates to August 2017. Downloaded from http://www.birds.cornell.edu/clementschecklist/download/
Coates, Bishop and Gardner A Guide to the Birds of Wallacea Dove Publications 1997
Handbook of the Birds of the World Alive (retrieved July 2018)
Recommended Citation
External Links