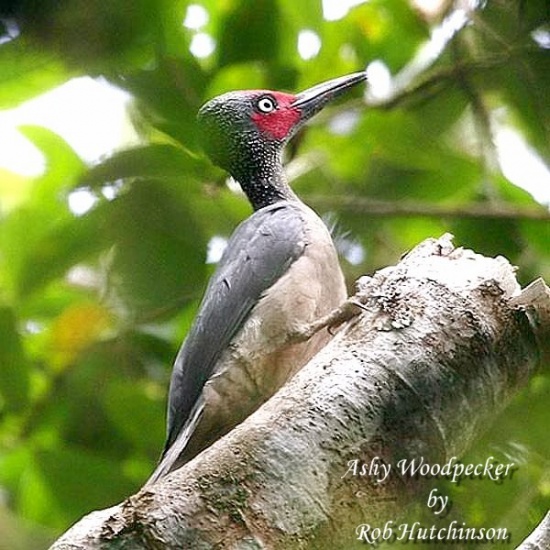 Mulleripicus fulvus
Identification
A large Woodpecker with dusky grey upperparts and buff underparts. The male of the nominate subspecies has a red forecrown whilst M.f.wallacei has a wholly red crown. The female has no red on the head. There is no confusion species on Sulawesi as the only other Woodpecker on the island is the small Sulawesi Woodpecker Dendrocopos temminckii.
Distribution
Endemic to Sulawesi, Indonesia, and some adjacent islands.
Reasonably common in suitable habitat.
Taxonomy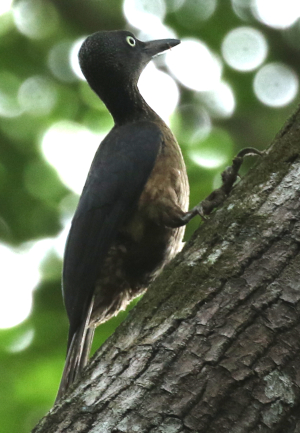 Subspecies[1]
There are 2 subspecies;
Northern Sulawesi, Bangka, Lembeh, Manterawu and Togian islands
Southern Sulawesi, Muna and Butung islands
Habitat
Moist lowland forests and montanes. Prefers closed forest, rarely seen close to villages or towns.
Occurs from lowlands up to 2200m.
Behaviour
Often seen in pairs or groups of up to five birds. Usually seen foraging on tree trunks. May also occasionally feed on ground.
Diet includes termites, caterpillars and probably other arthropods.
Breeding season probably from March to August. The nest hole is excavated in a dead tree or in a dead part of a living tree. One hole was 12m above the ground. Lays 2 to 3 eggs.
Probably a resident species.
References
Clements, J. F., T. S. Schulenberg, M. J. Iliff, B.L. Sullivan, C. L. Wood, and D. Roberson. 2012. The eBird/Clements Checklist of Birds of the World. 6th ed., with updates to October 2012. Ithaca: Cornell Univ. Press. ISBN 978-0801445019. Spreadsheet available at http://www.birds.cornell.edu/clementschecklist/downloadable-clements-checklist
Del Hoyo, J, A Elliot, and J Sargatal, eds. 2002. Handbook of the Birds of the World. Volume 7: Jacamars to Woodpeckers. Barcelona: Lynx Edicions. ISBN 978-8487334375
Avibase
Recommended Citation
External Links
GSearch checked for 2020 platform.1