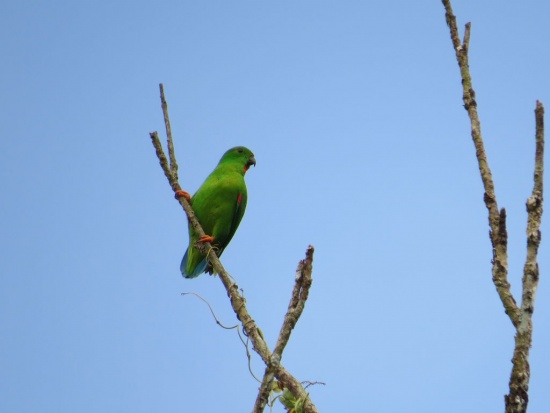 Alternative names: Great Hanging Parrot; Maroon-rumped Hanging-parrot
Loriculus stigmatus
Identification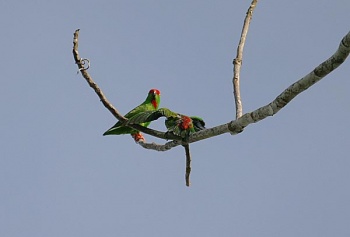 15 cm. With Sula Hanging Parrot the largest Hanging Parrot.
Overall green plumage
Underparts more yellowish
Bill black
Cere bright (male) or duller (female) orange
Forehead to mid-crown (most of crown) dull red (male) or green (female)
Throat with extensive (male) or reduced (female) dull red
Iris pale (male) or dark (female)
Nape and mantle with orange tinge
Carpal edge of wing red
Rump and uppertail-coverts maroon
Tip of undertail bluish
Legs bright (male) or duller (female) orange
Immatures are similar to females but with a yellowish throat patch and wing edge.
Similar species
The only other Hanging Parrot on Sulawesi is Pygmy Hanging Parrot. It has a red bill and lacks the red patch on the head. Other hanging parrots are very similar but allopatric (Loriculus).
Distribution
Endemic to Sulawesi and adjacent islands. South East Asia: Indonesia: Greater Sundas. Widespread and common in most of its range.
Taxonomy
Clements[1] regards this species as monotypic. Gill and Donsker[2] and HBW[3] however recognize three subspecies:
L. s. stigmatus on Sulawesi
L. s. quadricolor on Togian Island
L. s. croconotus on Muna Island and Butung Island
Habitat
Moist lowland forests, mangrove forests, forest edge, scrub and moist montanes. Occurs from sea-level up to 1000 m.
Behaviour
Diet
Feeds on nectar from different flowers and on soft fruits like figs and Tamarindus.
Breeding
Breeding recorded from January to February, April to June and in August. The nest is placed in a hole in a broken tree-trunk or in a bamboo. Two youngs recorded on one occasion.
Movements
Migratory or nomadic. In southern Sulawesi most numerous from October to December.
References
Clements, J. F., T. S. Schulenberg, M. J. Iliff, D. Roberson, T. A. Fredericks, B. L. Sullivan, and C. L. Wood. 2014. The eBird/Clements checklist of birds of the world: Version 6.9., with updates to August 2014. Downloaded from http://www.birds.cornell.edu/clementschecklist/download/
Gill, F and D Donsker (Eds). 2014. IOC World Bird Names (version 4.4). Available at http://www.worldbirdnames.org/.
Handbook of the Birds of the World Alive (retrieved November 2014)
External Links