Alternative name: Sulawesi Cuckooshrike; Salvadori's Cicadabird
Edolisoma morio
Coracina morio
Identification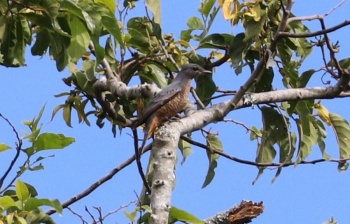 23–25 cm (9-9¾ in)
Male
overall plumage dark slate-blue
head darker
lores, face, chin, throat and upper breast black
Distribution
Endemic to Sulawesi, Sangihe and the Talaud Islands. South East Asia: Indonesia: Greater Sundas.
Taxonomy
Formerly placed in the genus Coracina. May be included as part of Common Cicadabird by some authors. Subspecies salvadorii is not genetically close to others and may be elevated as species Salvadori's Cicadabird.
Subspecies
There are 3 subspecies[1]:
Talaud Islands (Salebabu, Karakelong and Kaburuang)
Sulawesi, Lembeh, Muna, Tomea, Kabaena and Butung islands
Habitat
Primary and tall secondary growth; lowland, hill and montane forests
Behaviour
Diet
Their diet consists almost entirely of insects. They forage in pairs, small groups and mixed species flocks.
References
Clements, J. F., T. S. Schulenberg, M. J. Iliff, D. Roberson, T. A. Fredericks, B. L. Sullivan, and C. L. Wood. 2018. The eBird/Clements checklist of birds of the world: v2018. Downloaded from http://www.birds.cornell.edu/clementschecklist/download/
Handbook of the Birds of the World Alive (retrieved Aug 2018)
Recommended Citation
External Links