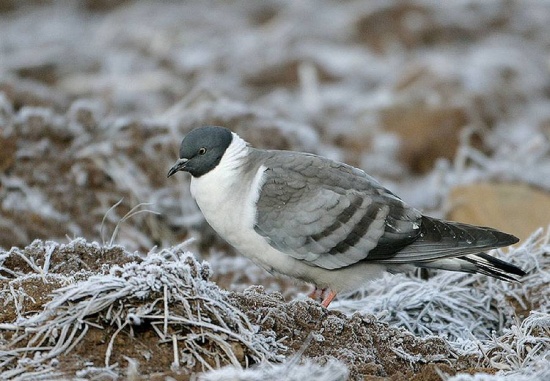 Alternative names: Tibetan Dove, White-bellied Pigeon
Columba leuconota
Identification
31-34 cm. A distinctive pigeon of the Himalayas.
Dark slate grey head
White underparts, lower back and rump
Light greyish brown mantle, scapulars and lesser wing-coverts, rest of wings pale slate grey
Three black bars across folded wing, a fourth sometimes visible
Black lower rump, uppertail-coverts and tail
Broad white crescent-shaped band across tail
Yellow or greenish yellow eye
gradaria larger than nominate and more grey and less brown
Sexes alike. Juveniles are duller than adults with a brown suffused plumage.
Distribution
Found in the Himalayas from Afghanistan to Pakistan, India, Nepal, Bhutan, China and extreme northern Burma. In summer also in Tajikistan.
Common in many areas.
Taxonomy
Two subspecies recognized:
Closely related to Hill Pigeon and Rock Pigeon.
Habitat
Found in colonies in steep gorges and on rock cliffs in alpine zone.
Occurs at 3000 to 5000 m.
Behaviour
Diet
Feeds mostly on seeds of herbs. Takes also other seeds, small roots and grain near villages in winter. Ingests quartzite grit.
Forages in pairs or in small parties in summer, in bigger flocks in winter of up to 150 birds.
Breeding
Breeding season from May to July. Breeds often in large colonies. The nest is a skimpy platform made of matted grass and some feathers. It's placed on incaccessible cliff ledges or rock caves. Lays 2 eggs.
Movements
Moves to lower altitudes in winter, usually down to 1500 m, sometimes lower.
References
Clements, J. F., T. S. Schulenberg, M. J. Iliff, B.L. Sullivan, C. L. Wood, and D. Roberson. 2013. The eBird/Clements checklist of birds of the world: Version 6.8., with updates to August 2013. Downloaded from http://www.birds.cornell.edu/clementschecklist/download/
Del Hoyo, J, A Elliot, and J Sargatal, eds. 1997. Handbook of the Birds of the World. Volume 4: Sandgrouse to Cuckoos. Barcelona: Lynx Edicions. ISBN 978-8487334221
Recommended Citation
External Links