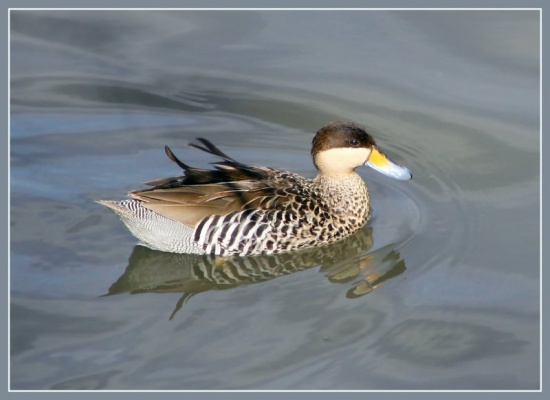 Spatula versicolor
Identification
Black cap extending below the eye, bill is blue with a yellow base and black along the center of the culmen. Green speculum with white borders. Female is slightly browner with less yellow on bill.
Similar Species
Puna Teal lacks yellow on bill, has whiter sides of head, and is bigger.
Distribution
Peru and Brazil through Paraguay, Argentina, and Chile (southern 2/3) to Tierra del Fuego and Falkland Islands
Taxonomy
Two subspecies are recognized: versicolor and fretensis.
Formerly placed in the genus Anas.
Habitat
Freshwater lakes and marshes mostly in lowland.
Behaviour
The diet includes seeds and aquatic plants.
References
Clements, J. F., T. S. Schulenberg, M. J. Iliff, D. Roberson, T. A. Fredericks, B. L. Sullivan, and C. L. Wood. 2017. The eBird/Clements checklist of birds of the world: v2017, with updates to August 2017. Downloaded from http://www.birds.cornell.edu/clementschecklist/download/
External Links