Spatula puna
Identification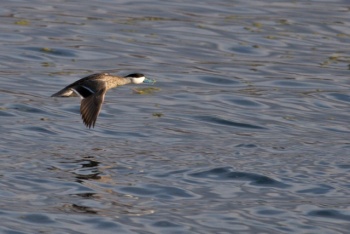 48–51 cm (19-20 in)
Black upper head
White face throat and neck
Pale brown back, chest and anterior flanks with dark brown spots becoming bars on the rear flanks
Grey upper tail-coverts
Light blue, relatively large bill, with a black line along the top of the upper mandible

Female is similar to male but smaller and browner.
Flight
In flight has a buff bordered, green speculum bordered in buff.
Similar Species
Silver Teal differs in having inner part of bill yellow, buff sides of head, and being overall smaller, but will not usually overlap in range
Distribution
South America: found in central Peru and western Bolivia south to northern Chile and extreme north-west Argentina.
Taxonomy
This is a monotypic species[1]. It was previously regarded as a subspecies of the Silver Teal.
Formerly placed in the genus Anas.
Habitat
They have a preferences for slightly alkaline wetlands with a lot of floating vegetation. Observed at heights around 4,083 m.
Behaviour
Diet
Their diet consists of seeds and the vegetative parts of aquatic plants, grasses and sedges. They also eat aquatic invertebrates, such as insects, larvae, molluscs, crustaceans.
Breeding
The male is partly polygamous. They construct the nest in islets, hidden in long grass. Usually 4 eggs are laid.
References
Clements, J. F., T. S. Schulenberg, M. J. Iliff, D. Roberson, T. A. Fredericks, B. L. Sullivan, and C. L. Wood. 2017. The eBird/Clements checklist of birds of the world: v2017, with updates to August 2017. Downloaded from http://www.birds.cornell.edu/clementschecklist/download/
Alvaro Jaramillo. 2003. Birds of Chile. Princeton Field Guides. ISBN 0-691-11740-3
BF member observations
Recommended Citation
External Links