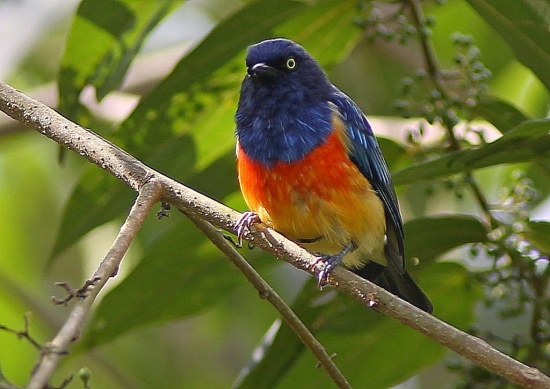 Dacnis berlepschi
Identification
12 cm (4¾ in); A colourful and distinctive dacnis with a thin and pointed bill.
Male
Narrow black mask from base of forehead through lores and eye
Bright violaceous rest of head, throat and chest
Deep violaceous blue mantle, back and scapulars with line-like silvery blue streaks
Paler rump unstreaked silvery blue
Black tail
Violaceous blue wings, dusky greater coverts, black flight-feathers
Broad scarlet band across breast, bleeding into yellow on lower breast and buff to white on centre of belly and undertail-coverts
Yellow eyes
Black bill
Female
Mainly plain brown above
Paler, more buffy brown underparts becoming buffy white on centre of belly and undertail-coverts with diffuse red wash forming broad band across centre of breast
Juveniles are similar to females but they have brown eyes.
Distribution
South America: found in southwest Colombia and in northwest Ecuador.
A rare to uncommon restricted-range species. Threatened by habitat loss and distribution now very fragmented.
Taxonomy
This is a monotypic species[1].
Habitat
Found in the canopy of wet and humid foothill forest, treefalls and river borders. Sometimes also in older second growth.
Occurs at 200 to 800 m, in smaller numbers even up to 1200 m.
Behaviour
A poorly known species. Usually seen singly, in pairs or small groups, often in mixed-species flocks.
Diet
Feeds on fruit, insects and probably also on nectar.
Breeding
Family groups with juveniles were recorded in June to November in the dry season. No other information on breeding.
Movements
Presumably a resident species.
References
Clements, J. F., T. S. Schulenberg, M. J. Iliff, D. Roberson, T. A. Fredericks, B. L. Sullivan, and C. L. Wood. 2014. The eBird/Clements checklist of birds of the world: Version 6.9., with updates to August 2014. Downloaded from http://www.birds.cornell.edu/clementschecklist/download/
Handbook of the Birds of the World Alive (retrieved July 2014)
Recommended Citation
External Links