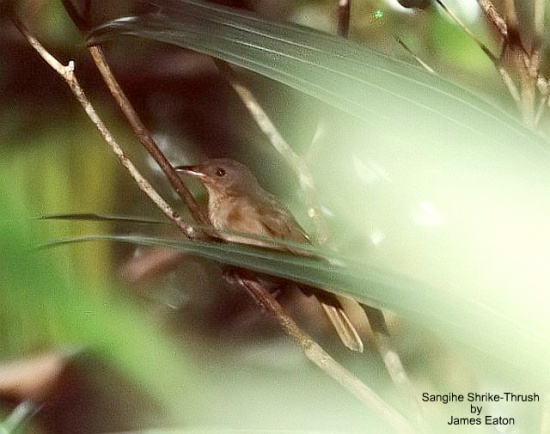 Alternative names: Sangihe Shrikethrush; Sangir Whistler
Coracornis sanghirensis
Identification
17 - 19cm.
Olive-grey above with slightly darker head
Dark brown ear-coverts pale buff streaked
Brown lesser upperwing-coverts
Brown tail
Pale grey below with light buff tinge, becoming greenish-yellow on belly
Darker undertail-coverts and flanks
Dark grey iris
Bill dark grey-horn above, light horn below
Sexes similar, juveniles undescribed.
Similar species
Recalls a Shrikethrush but ranges don't overlap.
Distribution
Endemic to Mount Sahendaruman on Sangihe Island, north of Sulawesi, Indonesia.
Critically endangered. Rediscovered in 1985 after beeing known only by two specimens of the 19th century. Treated by habitat loss and possibly fewer than 100 birds remain.
Taxonomy
Monotypic.
Was considered to be a subspecies of Little Shrikethrush in the past.
Formerly placed in genus Colluricincla.
Habitat
Lowland montane forest. Occurs at 575 - 1000m.
Behaviour
Feeds on insects. Forages in upper and middle storey of forest, occasionally on ground.
No information about breeding.
Resident species.
References
Clements, J. F., T. S. Schulenberg, M. J. Iliff, B.L. Sullivan, C. L. Wood, and D. Roberson. 2012. The eBird/Clements Checklist of Birds of the World. 6th ed., with updates to October 2012. Ithaca: Cornell Univ. Press. ISBN 978-0801445019. Spreadsheet available at http://www.birds.cornell.edu/clementschecklist/downloadable-clements-checklist
Del Hoyo, J, A Elliott, and D Christie, eds. 2007. Handbook of the Birds of the World. Volume 12: Picathartes to Tits and Chickadees. Barcelona: Lynx Edicions. ISBN 978-8496553422
Recommended Citation
External Links