Alternative name: Salvin's Mollymawk; Grey-backed Albatross
Thalassarche salvini
Diomedea salvini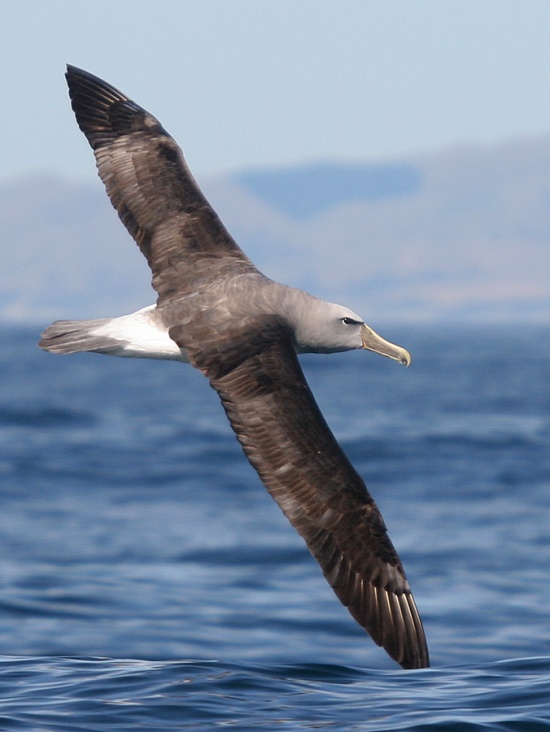 Identification
Grey head, mantle and back
Dark grey to black back, upperwing and tail
White rump and underside
Light grey legs, feet
Grey beak

Pale yellow upper ridge to the upper mandible
Dark spot at the tip of the lower bill
Distribution
The Crozet Islands in the Indian Ocean and the Bounty Islands and The Snares to the south of New Zealand.
Taxonomy
This is a monotypic species[1].
Diomedea vs. Thalassarche
Genera Phoebastria and Thalassarche formerly placed in the Diomedea, but now considered by virtually all authorities (Clements, Howard & Moore, AOU, BOU, SACC) to be separate genera in light of Nunn et al. (1996) and Penhallurick & Wink (2004). Often considered conspecific with Shy Albatross.
Habitat
Barren and rocky islands, and otherwise the open oceans.
Behaviour
Breeding
One egg is laid in early October and is incubated by both parents until early November. After a further 4 months, the chick fledges.
Diet
The diet includes fish and squid.
References
Clements, JF. 2010. The Clements Checklist of Birds of the World. 6th ed., with updates to December 2010. Ithaca: Cornell Univ. Press. ISBN 978-0801445019. Spreadsheet available at http://www.birds.cornell.edu/clementschecklist/Clements%206.5.xls/view
Recommended Citation
External Links