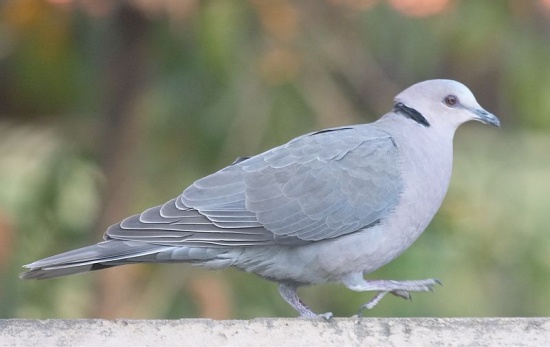 Streptopelia capicola
Identification
28cm
Pale brownish grey
Black patch on the back of neck
Darker colours on their backs
White tips at end of tail feathers
Distribution
Southern and eastern Africa:
Western Africa: Equatorial Guinea, Gabon, DRC and Angola
Eastern Africa: Sudan, Ethiopia, Somalia, Kenya, Uganda, Rwanda, Zanzibar, Zambia and Malawi
Southern Africa: Namibia, Botswana, Zimbabwe, South Africa and KwaZulu-Natal
Taxonomy
Subspecies
This is a polytypic species, consisting of six subspecies[1]:
South-western Angola and northern Namibia
An additional subspecies tropica is generally considered invalid[2]
Habitat
Bush, savannah, woodlands.
Behaviour
Diet
The diet includes mainly seeds, but also insects, particularly flying ants.
Breeding
Nests are built in the forks of trees. The two creamy-white eggs are incubated for 15 days. The males sit on the eggs during the day, and the female at night. The chicks fledge after 14 days.
The adults are ready to breed again after a week. The male continues to feed the first youngsters after the next eggs are laid.
References
Clements, JF. 2011. The Clements Checklist of Birds of the World. 6th ed., with updates to August 2011. Ithaca: Cornell Univ. Press. ISBN 978-0801445019. Spreadsheet available at http://www.birds.cornell.edu/clementschecklist/downloadable-clements-checklist
Avibase
Wikipedia
Wildlife Frontiers
Recommended Citation
External Links
GSearch checked for 2020 platform.1