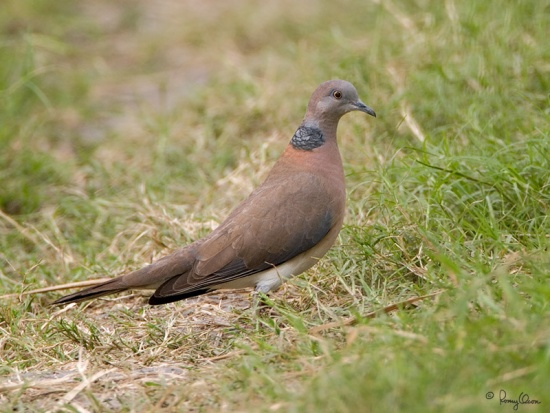 Streptopelia dusumieri
Identification
Upperside mostly earth-brown
Underside mostly white with a pinkish wash that is strongest at breast and throat
Head and neck mostly grey with a pinkish wash
Broad half collar on the rear of the neck with a green wash and bordered below with rusty area
Underside of tail with broad black base, outer tail feather with white edge and grey tip
Bill black, legs red and eye orange-brown
Distribution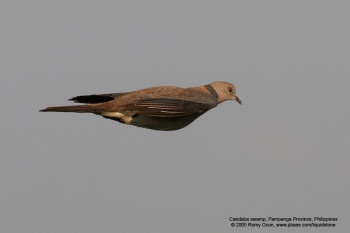 Philippines and Sulu Archipelago; vagrant to northern Borneo. Introduced to Northern Mariana Islands (Guam north to Saipan)
Taxonomy
This is a monotypic species[1].
Philippine Collared Dove and Sunda Collared Dove were previously one species under the name of Island Collared Dove.
Habitat
Mostly open country including grassland, agricultural areas and urban areas as long as there are some bushes and trees.
Behaviour
Breeding involves a flimsy nest of small branches placed in a form of a horizontal branch of a low tree.
Vocalisation
Birds in Luzon have a brisk three-note call lacking guttural tone, first note highest, second lowest and shortest, third longest and slightly lower than first.
References
Clements, J. F., T. S. Schulenberg, M. J. Iliff, S. M. Billerman, T. A. Fredericks, J. A. Gerbracht, D. Lepage, B. L. Sullivan, and C. L. Wood. 2021. The eBird/Clements checklist of Birds of the World: v2021. Downloaded from https://www.birds.cornell.edu/clementschecklist/download/
Gill, F, D Donsker, and P Rasmussen (Eds). 2021. IOC World Bird List (v 11.2). Doi 10.14344/IOC.ML.11.2. http://www.worldbirdnames.org/
Recommended Citation
External Links
GSearch checked for 2020 platform.