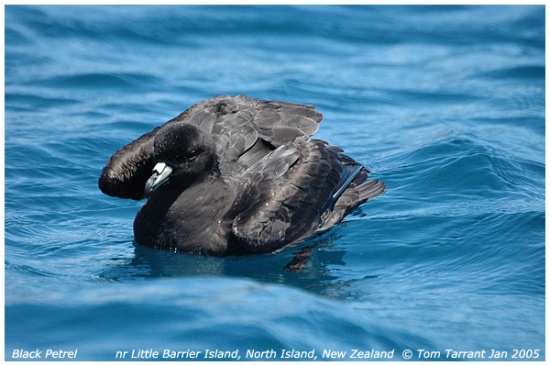 Procellaria parkinsoni
Alternative Name: Black Petrel
Identification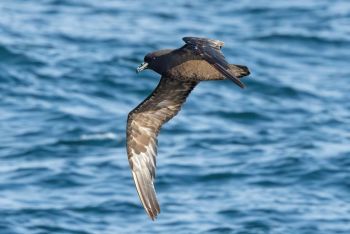 The Parkinson's Petrel or Black Petrel, Procellaria parkinsoni, is a large, black petrel, the smallest of the Procellaria.
Distribution
Breeding now restricted to ridge-top forests on the highest parts of Great (c. 800 pairs) and Little Barrier Islands (c. 100 pairs) in the Gulf of Hauraki in northern New Zealand. Once nested in the more extensive forests of the main islands (south to Heaphy Range near Nelson on the North Island and southeastern parts of the South Island) and presumably was once more abundant. May have overlapped with Westland Petrel. Unlike the closely-related Westland Petrel, Black Petrel breeds during the austral summer (Nov-July). Eggs layed in late November and December. Total world population estimated at only 3000-4000 individuals. Breeding birds feed in sub-tropical waters around the North Island of New Zealand and further eastwards (30-42 deg. S). Especially common in seas around breeding islands, and may form large flocks (e.g 300 birds) near feeding cetaceans. Also ranges into the Tasman Sea and eastern Australia.
Outside the breeding season (ie. Mar-Nov), disperses into the eastern tropical Pacific reaching Mexico, Central America, The Galapagos, Ecuador and Peru. A few non-breeders may remain all year. Accidental to California in the Pacific Ocean near Cordell Bank, 17.6 nautical miles northwest of the Point Reyes, Marin County, California, on 1 October 2005.[1]
Taxonomy
Habitat
Behaviour
Attends trawlers and is vulnerable to fatalities in longline fishing. Feed predominantly on squid, supplemented with fish and crustaceans. High fraction of bioluminescent squid in diet suggests much feeding is done at night.
References
www.oceanwanderers.com
External Links
GSearch checked for 2020 platform.