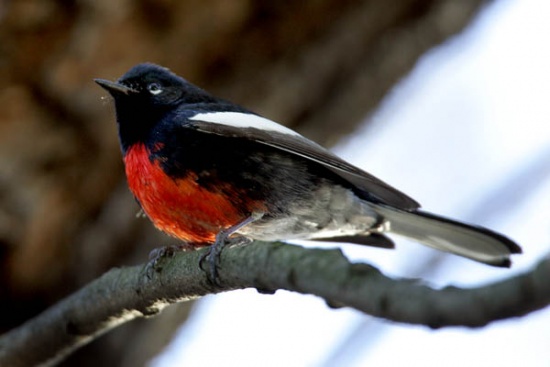 Alternative name: Painted Whitestart
Myioborus pictus
Identification
12.5-15cm Black hood and upperparts, and bright red breast and belly. Wings are black with large, white patches. Tail is black with thick, white edges. Sexes are similar. Juvenile has black breast and belly.
Similar species
Commonly confused with Slate-throated Redstart in the US/Mexico where that species has deep red underparts. Differs by having white under-eye arcs and large white wing patches.
Distribution
Southernmost United States, Mexico and south to northern Nicaragua.
Taxonomy
Two subspecies are recognized[1]:
M. p. pictus
M. p. guatemalae
Habitat
Pine or pine-oak woods, oak canyons, and pinyon- and juniper-covered high slopes.
Behaviour
Both sexes sing and during courtship a pair will often bond by singing together.
They build their nests on the ground, hidden amongst rocks, roots, or tufts of grass on steeply sloping ground. Their nests are large and shallow, constructed of strips of bark, plant fibres, leaves, and grass. The female will lay 3 or 4 white to cream-coloured eggs that are speckled with fine brown and reddish spots. Incubation lasts about 14 days.
The diet includes insects which are gleaned from leaves, tree trunks, and branches; also hovers while picking insects from foliage, and hawks over water.
References
Clements, JF. 2011. The Clements Checklist of Birds of the World. 6th ed., with updates to August 2011. Ithaca: Cornell Univ. Press. ISBN 978-0801445019. Spreadsheet available at http://www.birds.cornell.edu/clementschecklist/downloadable-clements-checklist
Recommended Citation
External Links
GSearch checked for 2020 platform.