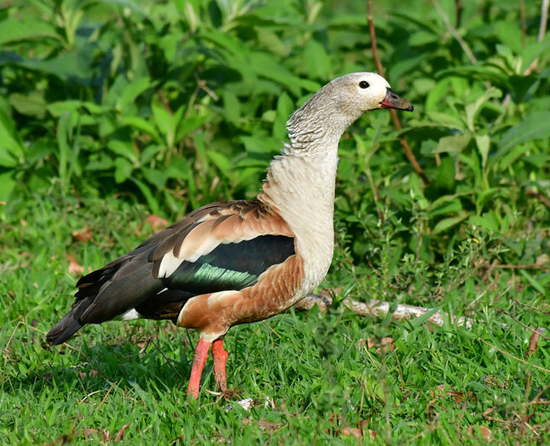 Neochen jubata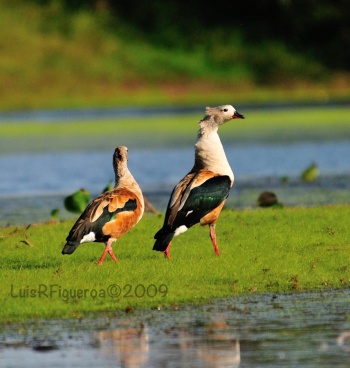 Identification
61-66 cm (24-26 in)
Pale head and neck
Chestnut flanks and mantle
Black wings
White speculum
Red legs
Black and pink bill

Males are larger, otherwise sexes are identical.
Juveniles are duller than adults.
Distribution
South America: found from Orinoco and Amazon River basins to north-western Argentina
Taxonomy
This is a monotypic species[1].
Sometimes placed in genus Oressochen together with Andean Goose.
Habitat
Forest lakes or marshes with access to open woodland or savanna.
Behaviour
Diet
There is very little information available about diet in wild populations, but it is presumed they eat green parts of various plants and sedges.
Breeding
They nest in hollow trees, only occasionally on the ground.
References
Clements, J. F., T. S. Schulenberg, M. J. Iliff, D. Roberson, T. A. Fredericks, B. L. Sullivan, and C. L. Wood. 2018. The eBird/Clements checklist of birds of the world: v2018. Downloaded from http://www.birds.cornell.edu/clementschecklist/download/
AvianWeb
Handbook of the Birds of the World Alive (retrieved November 2018)
Recommended Citation
External Links