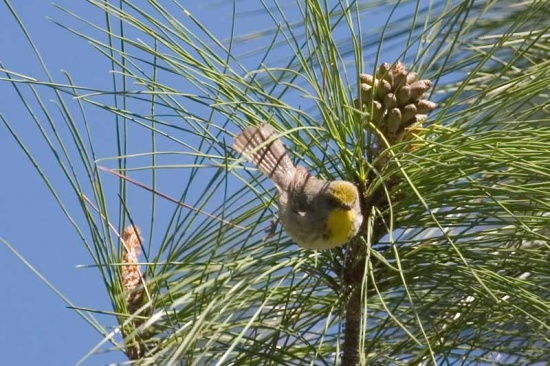 Setophaga pityophila
Dendroica pityophila
Identification
Upperparts are greyish-brown and the crown is olive-green. The throat and upper breast are yellow with black streaks bordering the sides.
Distribution
Restricted to Cuba and northern islands in the Bahamas.
Taxonomy
This is a monotypic species1. However, the populations in Bahamas have been considered a separate subspecies.
Formerly placed in genus Dendroica.
Habitat
Pine forests and even isolated pine stands.
Behaviour
Often foraging high in canopy, but may be found even on the ground. Feeds mainly on insects
References
Clements, JF. 2011. The Clements Checklist of Birds of the World. 6th ed., with updates to August 2011. Ithaca: Cornell Univ. Press. ISBN 978-0801445019. Spreadsheet available at http://www.birds.cornell.edu/clementschecklist/downloadable-clements-checklist
Raffaele et al. 1998. Birds of the West Indies. Christopher Helm, London. ISBN 0713649054
External Links