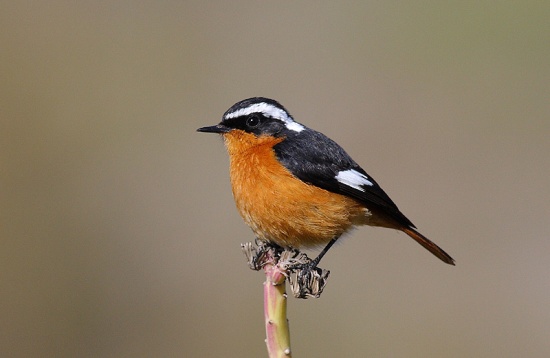 Phoenicurus moussieri
Identification
13cm
Male
Black head
Broad white headband which goes down to the side of the neck
Black upperparts
White wing patch
Short reddish tail
Underparts rich orangy-red.
Winter and first-summer males browner above where adult summer males are black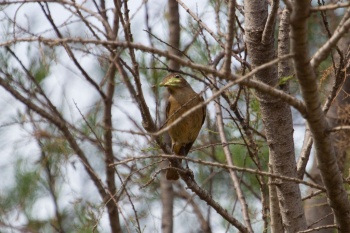 Female - light brown above, brownish orange underparts.
Similar species
The male is unmistakable, but females are very easily confused with female Common Redstarts, differing only in their marginally smaller size, shorter tail, and slightly more intense orange colour on the flanks.
Distribution
Atlas Mountains of northwest Africa in Morocco, northern Algeria, and Tunisia.
Rare vagrant to Europe. Malta (10 records), Italy (records on Linosa and other islands south of Sicily), Spain, Portugal (1 record) and Wales (1 record 1988) are the five European countries which have recorded this bird.
Taxonomy
This is a monotypic species[1].
Habitat
Open woodland in rocky areas, mainly in the mountains but locally down to near sea level.
Behaviour
Breeding
Its nest is built in a bush or on the ground and the clutch is typically 3-6 eggs.
Diet
Diet includes insects.
Vocalisation
Song is a mixture of rasping sounds and svee-svee notes
Call is a plaintive single note, heeh.
References
Clements, J. F., T. S. Schulenberg, M. J. Iliff, D. Roberson, T. A. Fredericks, B. L. Sullivan, and C. L. Wood. 2014. The eBird/Clements checklist of birds of the world: Version 6.9., with updates to August 2014. Downloaded from http://www.birds.cornell.edu/clementschecklist/download/
Wikipedia
Collins Field Guide 5th Edition
Recommended Citation
External Links
GSearch checked for 2020 platform.1