Alternative names: Grey-backed Wagtail; Long-tailed Wagtail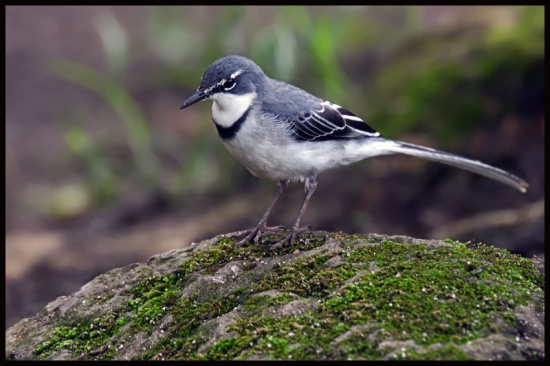 Motacilla clara
Identification
17-19 cm. A long-tailed, graceful wagtail.
Narrow white supercilium
Blackish lores and area below eye, dark-grey ear-coverts
Mostly grey upperparts, blackish wings, most remiges and wing-coverts narrowly edged white, tertials broadly edged white
Uppertail dark with white edges, undertail white
White underparts with narrow black breastband
Sexes similar. Immatures lack (or nearly lack) the breastband.
Distribution
Patchily distributed in Africa south of the Sahara.
Frequent along suitable watercourses in much of its range. Possibly occurs also in South Sudan and Eritrea.
Taxonomy
Three subspecies recognized:
chapini is probably inseparable from torrentium. May form a superspecies with Grey Wagtail.
Initially called Motacilla longicauda, but this name was preoccupied.
Habitat
Found along rocky, fast-flowing streams and rivers in forests. Occurs from lowlands up to at least 2000m.
Sometimes in more open habitat in places where African Pied Wagtail is absent.
Behaviour
Diet
Feeds mainly on insects. Takes also small invertebrates, small fish and tadpoles.
Picks and darts its prey on the ground or in vegetation, wades in shallow water to pick prey from it and jumps up to catch insects. Also flycatches over rivers.
Breeding
Breeding season differs through range: May and August to December in South Africa, March and July to November in Malawi, in all months in Tanzania and January to April and September to November in Ethiopia. A highly territorial, monogamous species. The nest is a bulky structure made of leaves, grass, moss and roots, lined with hair. It's placed on the ledge on a riverside cliff, among tree roots by a river or sometimes under a bridge. Lays 1 to 4 eggs.
Movements
Sedentary in Ethiopia, possibly nomadic in east and southern Africa. Probably undertakes seasonal movements in western Africa.
References
Clements, J. F., T. S. Schulenberg, M. J. Iliff, D. Roberson, T. A. Fredericks, B. L. Sullivan, and C. L. Wood. 2014. The eBird/Clements checklist of birds of the world: Version 6.9., with updates to August 2014. Downloaded from http://www.birds.cornell.edu/clementschecklist/download/
Handbook of the Birds of the World Alive (retrieved December 2014)
Recommended Citation
External Links