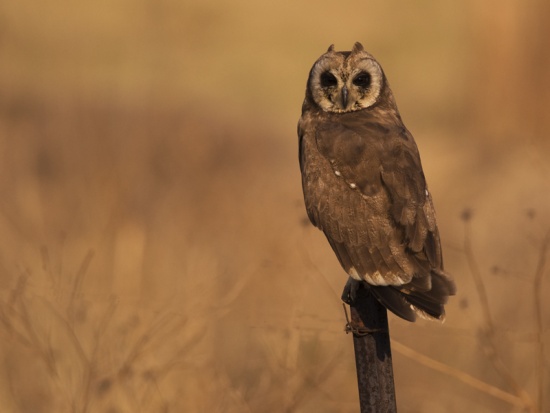 Identification
35-37 cm
Yellow eyes
Black iris
Short ear-tufts
Dark brown plumage
Distribution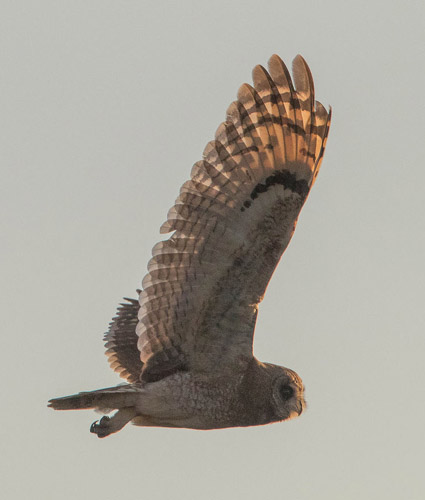 Northern Africa: Morocco, Tunisia
Western Africa: Senegal, The Gambia, Mali, Ivory Coast, Burkina Faso, Benin, Nigeria, Niger, Chad, Cameroon, Central African Republic, Gabon, DRC and Angola
Eastern Africa: Sudan, Ethiopia, Kenya, Uganda, Rwanda, Burundi, Tanzania, Zambia, Mozambique and Malawi
Southern Africa: Namibia, Botswana, Zimbabwe, South Africa, KwaZulu-Natal, Lesotho, eSwatini
African Islands: Madagascar
Taxonomy
Subspecies
There are 3 subspecies[1]:
Habitat
Prefers wetland with large and high grassland as Scirpus sp and Juncus sp.
Behaviour
Breeding
Breeding period occurs between March to June. They lay 2-4 eggs on the ground, amongst tussocks.
Diet
Diet includes insects, and small mammals, such as rodents and birds.
Vocalisation
Call: a frog-like kaar or rasping whistle shrss.
References
Clements, JF. 2011. The Clements Checklist of Birds of the World. 6th ed., with updates to August 2011. Ithaca: Cornell Univ. Press. ISBN 978-0801445019. Spreadsheet available at http://www.birds.cornell.edu/clementschecklist/downloadable-clements-checklist
Avibase
Wikipedia
BF Member observations
Recommended Citation
External Links