Alternative names: Rano Rano Whistler; Raven's Whistler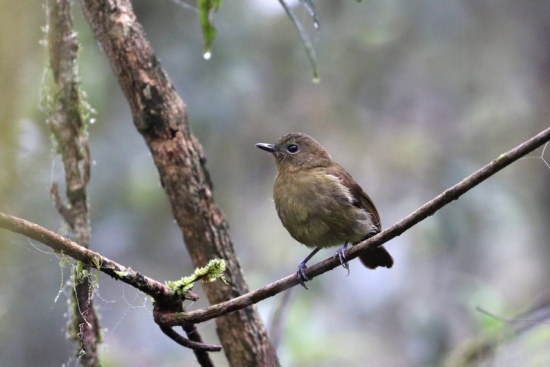 Coracornis raveni
Identification
15cm (6 in)
Sooty black crown, hindneck and side of face
Dark chestnut-brown mantle and rump
Mostly black upperwing
Dark chestnut-brown lesser wing-coverts
Black tail
Sooty black to olive-grey underparts
Dark brownish-red iris
Black bill
Females are brown above, have a dark grey tail and buffy brown below with a lighter chin.
Juveniles are like females.
Similar species
Females can be confused with Yellow-flanked Whistler.
Distribution
Sulawesi endemic. South East Asia: Indonesia: Greater Sundas. Locally common but uncommon in most of its range.
Taxonomy
This is a monotypic species[1].
Often placed in genus Pachycephala.
Habitat
Mountain forest at 1500 - 2200m.
Behaviour
Diet
Feeds on insects.
Usually seen in understorey and middle lower storey. Skulking and secretive, difficult to see.
Breeding
Nothing known about breeding.
Movements
Probably a sedentary species.
References
Clements, J. F., T. S. Schulenberg, M. J. Iliff, D. Roberson, T. A. Fredericks, B. L. Sullivan, and C. L. Wood. 2017. The eBird/Clements checklist of birds of the world: v2017, with updates to August 2017. Downloaded from http://www.birds.cornell.edu/clementschecklist/download/
Del Hoyo, J, A Elliott, and D Christie, eds. 2007. Handbook of the Birds of the World. Volume 12: Picathartes to Tits and Chickadees. Barcelona: Lynx Edicions. ISBN 978-8496553422
Recommended Citation
External Links