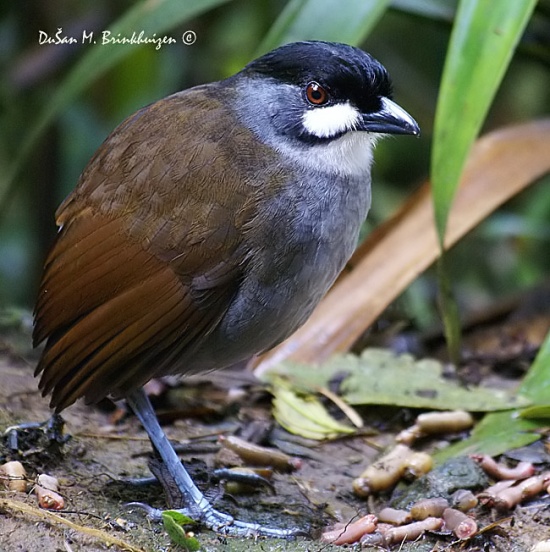 Grallaria ridgelyi
Identification
22 cm (8.5 in).
Black cap and most of ear-coverts
Large glossy white patch on cheeks and lower lores
Brownish-olive upperparts, wings and tail, nape and mantle washed black
White throat, whitish breast and belly with variable grey wash
Brownish-olive side of breast to flanks and undertail-coverts
Dark red eye
Black bill
Sexes similar. Juveniles differ by having brownish crown.
Distribution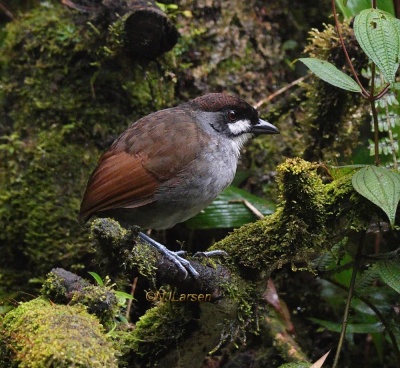 Very local in Zamora-Chinchipe in far southern Ecuador and, as confirmed in 2006, adjacent parts of Cajamarca in northern Peru.
Rare and with a highly restricted range, but it has proven difficult to locate and undiscovered localities where it occurs could exist. Significant sections of its distribution are within the Tapichalaca Biological Reserve and the adjacent Podocarpus National Park, but the latter - at least - remain highly threatened by illegal logging and gold mining. It is currently considered endangered by BirdLife International.
Taxonomy
Only discovered in 1997 and described in 1999. Its species name, ridgelyi, refers to the discoverer, Robert S. Ridgely, who also played a fundamental part in the establisment of the Tapichalaca Biological Reserve.
This is a monotypic species.
Closest relatives are probably Pale-billed Antpitta and Chestnut-naped Antpitta.
Habitat
Humid montane forest. Prefers steep slopes.
Occurs at 2300 - 2680m.
Behaviour
Feeds on arthropods (milipedes, beetles, ants and larvae).
As other antpittas it is highly elusive and typically very difficult to see, but can become more "tame" if regularly feed at a specific locality. Based on timing of males' song, it is suspected that breeding is in October to November.
Presumably a resident species.
References
Clements, JF. 2010. The Clements Checklist of Birds of the World. 6th ed., with updates to December 2010. Ithaca: Cornell Univ. Press. ISBN 978-0801445019. Spreadsheet available at http://www.birds.cornell.edu/clementschecklist/Clements%206.5.xls/view
Dickinson, EC, ed. 2003. The Howard and Moore Complete Checklist of the Birds of the World. 3rd ed., with updates to October 2008 (Corrigenda 8). Princeton: Princeton Univ. Press. ISBN 978-0691117010
Gill, F and D Donsker (Eds). 2010. IOC World Bird Names (version 2.7). Available at http://www.worldbirdnames.org/.
Del Hoyo, J, A Elliot, and D Christie, eds. 2003. Handbook of the Birds of the World. Volume 8: Broadbills to Tapaculos. Barcelona: Lynx Edicions. ISBN 978-8487334504
Recommended Citation
External Links