This article is incomplete.
This article is missing one or more sections. You can help the BirdForum Opus by expanding it.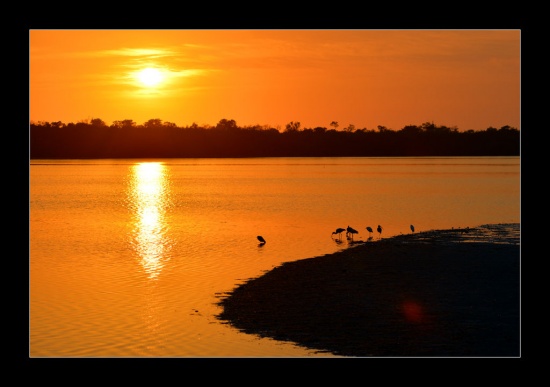 Overview
The refuge has a large diversity of species. Approximately 238 bird species have been identified utilizing refuge habitats, as well as 51 species of reptiles and amphibians and 32 species of mammals.
The refuge is made up of several habitat types: estuarine habitat consisting of open water, sea grass beds, mud flats and mangrove islands, and interior freshwater habitats consisting of: open water ponds, spartina swales, and west Indian hardwood hammocks/ridges. Two brackish water impoundments totaling 800 acres are managed for mosquito control and are used extensively by waterfowl and wading birds.
Birds
Notable Species
Two thousand eight hundred and twenty five (2,825) acres of the refuge have been designated as Wilderness Area. Several threatened and endangered species benefit from the habitats described: Eastern Indigo Snake, American Alligator, American Crocodile, Bald Eagle, Wood Stork, Peregrine Falcon, West Indian Manatee, and Atlantic Loggerhead Turtle.
Rarities
"to do"
Check-list
Birds you can see here include:
"to do"
Other Wildlife
"to do"
Site Information
History and Use
"to do"
Areas of Interest
"to do"
Access and Facilities
"to do"
Contact Details
"to do"
External Links

Search for images taken on Sanibel Island:
GSearch checked for 2020 platform.1



Content and images originally posted by wdkwild
Reviews
compa's review A photographer's dream - birds everywhere with little fear of man. Everything can be seen from the roadside. Tripods with cameras and scopes are lined up in some areas. A wonderful vacation area as well with nice beaches and great shelling. I was there at the end of January 2005 and highly recommend it. Check out my website for more info: [url]http://www.jbs-blog.com/?p=5[/url]
Pros
Cons
ojmorales0002's review I am new at birding, but I remember SANIBEL, from somewhere, so from Ft. Lauredale we drove West through Big Cypress (Saw my first C. Moorhen there) and made it to Sanibel, we didnt know what to do, so we picked up a burger and a local guide. The burger was incredible! a place on Perriwinkle Way close to the lighthouse beach. We saw a nature drive and went for it, we were bored.
We went into the visitors center, got a free map, a dose of A/C and checked out their glassed in viewing platform. They seem to have many busted binoculars and 10 year old bird guides, which was good since you didnt see anything from there. Good bookshop, pick up a local bird guide if you dont have one.
We started walking the Indigo trail, right from the visitors center, saw some Anoles. 100ft in right after the end of a little board walk you pay $1 per person for the trail, then you walk on a crushed stone path. The heat reflected from the path made us turn back about 10 minutes in (do it on a nice weather day). We did see about 6 species in that time.
We went back and paid for the drive and WOW! We didnt get the amounts that migration brings along, but I didnt not complain. Cattle Egrets, GBH, YCN Heron, BCN Heron, White Ibis, Roseate Spoonbill, B. Pelicans, TC Heron, etc, etc, etc.
We left really happy to Miami. We cut our Key West stay short by two days and spent them at Sanibel, went to Ding Darling twice more (Anhinga Trail at the Everglades resulted in one blackbird and a turtle). The second time there we went on a cruise through Tarpon Bay. Loved it.
oh yeah, we did see gaotrs and dolphins there too.
I highly recommend Ding Darling
-Omar
Pros
diversity of birds
well managed
Cons
very
very
very hot in summer
specially the Indigo Trail
Limeybirder's review Awesome site and one of my favoruite places to bird away from North Florida. A must visit for out of state birders especially photographers.
Pros
Great Photographic opportunities
sheer number of birds
Cons
busy with tourists after 9am
Lorax Dan's review
Pros
Fantastic variety of birds and viewing is so easy!
Cons
Lots of people but that's life.
biswasg's review
I am planning to make a visit to the Ding Darling Reserve in December 18-22, 2006. Is this a good time to visit for bird watching specially bird and wildlife photography? Any tips would be helpful. Avi's review In addition to others' comments, I would add two comments: (1) While the Wildlife Drive is great in its own right, birders should not miss two other areas nearby on the island: -The Sanibel-Captiva Conservation Foundation's headquarters which has a very nice nature center and trails. (Admission fee) The trails include a lookout tower w/ excellent views, and which overlooks some Osprey nesting platforms. It is a real kick to look DOWN on nesting Ospreys! This is just two minutes drive from the end of the refuge's Wildlife Drive. -The Baily Tract, a small, separate area of the NWR that is well worth a visit, and, besides birds, has some good butterfly possibilities. Admission is free. (2) We visited (twice) in early February (2006 & 2007); the bird watching was excellent and the weather quite comfortable for bird watching, (and walking) although it was not really "beach weather". A visit slightly earlier, at the end of January would probably yield similar conditions, but many local accommodations consider January "low season". Pros
Excellent views of waders and shorebirds
Cons
Area is expensive. High toll on bridge to Sanibel
expensive
(although often quite nice) accommodations
many with minumum stays
especially in-season
and
typically two weeks in advance cancellation requirements on reservations.