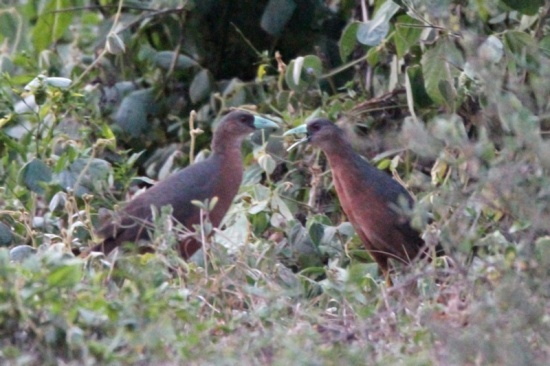 Alternative name: Isabelline Waterhen; Sulawesi Waterhen, Sulawesi Bush-hen
Amaurornis isabellina
Identification
40cm. Sexes alike. A large rail.
upperparts grey-tinged, olive-brown. Includes the crown and most of the face
underparts vinous chestnut to rufous. Includes the neck sides and cheeks
bill short, heavy, pale green
legs greenish brown
eye dark red
Distribution
Sulawesi endemic. South East Asia: Indonesia: Greater Sundas. A poorly known species, definitely recorded in the north and south east.
Taxonomy
This is a monotypic species.
Habitat
Lowlands; grasslands near water.
Occurs from lowlands up to 800m.
Behaviour
Diet unknown.
Chicks recorded in May. No other information about breeding.
Vocalisation
The call is a loud tak-tak-tak-tak.
References
Clements, JF. 2011. The Clements Checklist of Birds of the World. 6th ed., with updates to August 2011. Ithaca: Cornell Univ. Press. ISBN 978-0801445019. Spreadsheet available at http://www.birds.cornell.edu/clementschecklist/downloadable-clements-checklist
Del Hoyo, J, A Elliot, and J Sargatal, eds. 1996. Handbook of the Birds of the World. Volume 3: Hoatzin to Auks. Barcelona: Lynx Edicions. ISBN 978-8487334207
Recommended Citation
External Links