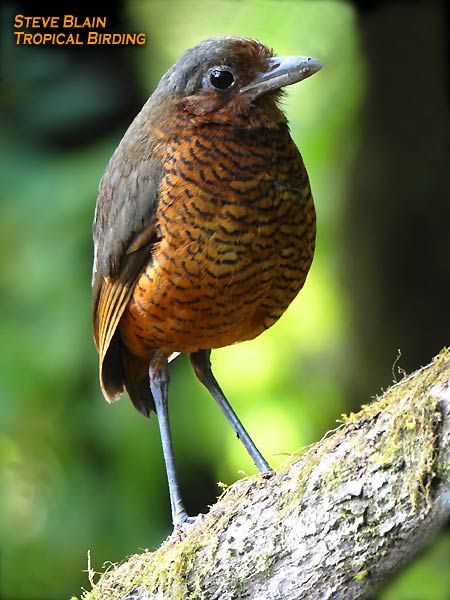 Grallaria gigantea
Identification
As the name implies, this is the largest antipitta in Ecuador at 24cm (9.5") in height.
Overall dark coloration; brown on the back, and rufous with dark fine banding on the front. Very short, almost absent tail.
Heavy dark bill and large eye.
Distribution
Low to medium elevations on both slopes of the Andes in Ecuador. Sightings are rare except in cases where they've been lured and trained to appear for food, the most famous of which is the Paz de las Aves Private Reserve, near Mindo, Ecuador.
Taxonomy
Three subspecies are recognized:
Andes of south-western Colombia (head of Magdalena Valley)
South-western Colombia (Nariño) and Western slope of Andes of Ecuador
Eastern slope of Andes of Ecuador (Carchi and Napo south to Tungurahua)
Habitat
Humid forest floor.
Behaviour
Hops across the forest floor in bursts, then stands erect.
Diet
Probes the forest floor for food, primarily earthworms.
References
Clements, J. F., T. S. Schulenberg, M. J. Iliff, B.L. Sullivan, C. L. Wood, and D. Roberson. 2013. The eBird/Clements checklist of birds of the world: Version 6.8., with updates to August 2013. Downloaded from http://www.birds.cornell.edu/clementschecklist/download/
Recommended Citation
External Links
GSearch checked for 2020 platform.1