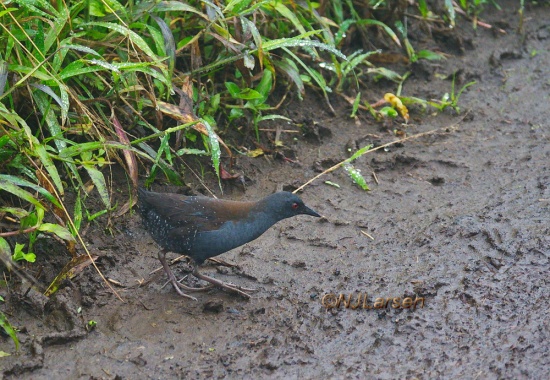 Alternative name: Galapagos Crake
Laterallus spilonota
Identification
Mostly gray, blackish-brown wings, rusty mantle. There are small white spots on the rear half. Eyes red, bill and legs dark.
Similar species
Paint-billed Crake has red legs and bi-colored bill. No other rail is expected in Galapagos.
Distribution
Endemic to the Galapagos Islands
Taxonomy
This is a monotypic species[1].
Habitat
Grassy areas in humid highland
Behaviour
A skulker, unlikely to show itself unless you use playback
References
Clements, J. F., T. S. Schulenberg, M. J. Iliff, B.L. Sullivan, C. L. Wood, and D. Roberson. 2013. The eBird/Clements checklist of birds of the world: Version 6.8., with updates to August 2013. Downloaded from http://www.birds.cornell.edu/clementschecklist/download/
Recommended Citation
External Links