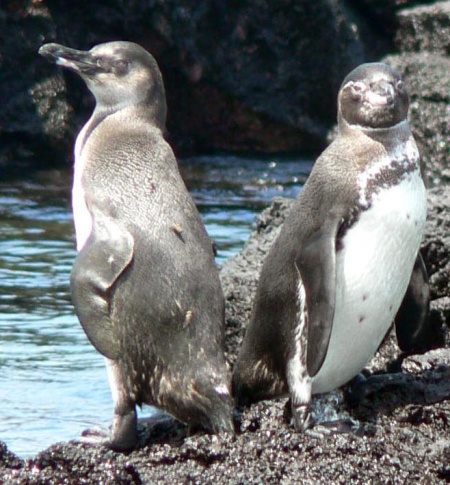 Spheniscus mendiculus
Identification
Blackish-grey above and white below but in worn plumage looks brown. White band extends from bill over eye to meet under dark throat patch and breast has two indistinct bands.
Bill blackish with pink base to lower mandible, feet black.
The only penguin in range.
Distribution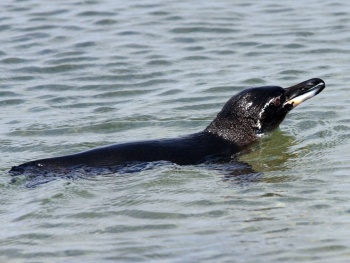 Confined to the Galapagos Islands where breeds only on Fernandina and the west coast of Isabela but can also be seen on eastern Isabela, James, Bartolome, north Santa Cruz and Floreana.
Vagrant recorded on Pacific coast of Panama.
Taxonomy
This is a monotypic species[1].
Habitat
Breeds year-round in small colonies in rocky crevices on islands and most active at night. Otherwise at sea around the Galapagos Islands.
Status
Classified as Endangered in the 2008 IUCN Red List, due to its small population and rapid population decline due to changes in its marine environment, and because almost all breeding occurs at a single site (BirdLife International, 2008).
Behaviour
Breeding
Colonial breeder in small loose colonies, nesting in holes under lava. Eggs: two, whitish, laid throughout the year.
Diet
Their diet consists mostly of small fish.
References
Clements, J. F., T. S. Schulenberg, M. J. Iliff, B.L. Sullivan, C. L. Wood, and D. Roberson. 2013. The eBird/Clements checklist of birds of the world: Version 6.8., with updates to August 2013. Downloaded from http://www.birds.cornell.edu/clementschecklist/download/
BirdLife International
Recommended Citation
External Links
GSearch checked for 2020 platform.