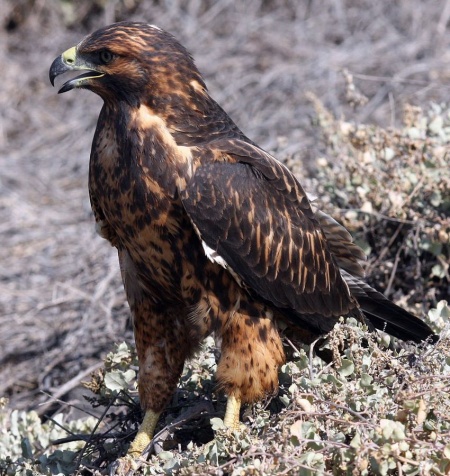 Buteo galapagoensis
Identification
The adults are very dark, whereas the juvenile is quite mottled with pale eyes.
Distribution
There are just 800 of these magnificent birds left on the islands of the Galapagos.
Taxonomy
This is a monotypic species[1].
Its closest relative seems to be Swainson's Hawk
Habitat
Beach, bush, arid scrub and lava fields
Behaviour
Birds will throw sand up into the face of intruders.
Breeding
Many are polyandrous, whereby several males mate with a single female and stay around to help raise the young.
Gallery
Click on photo for larger image
References
Clements, J. F., T. S. Schulenberg, M. J. Iliff, B.L. Sullivan, C. L. Wood, and D. Roberson. 2013. The eBird/Clements checklist of birds of the world: Version 6.8., with updates to August 2013. Downloaded from http://www.birds.cornell.edu/clementschecklist/download/
BF Member observations
Recommended Citation
External Links