Alernative name: Galapagos Cormorant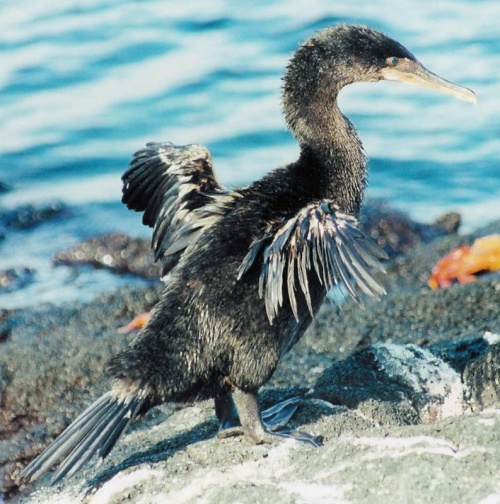 Nannopterum harrisi
Phalacrocorax harrisi
Identification
Up to 100 cm, a large cormorant. It is dark brown to black. The wings are reduced and look like ducks would look in heavy flight-feather moult.
Similar species
No other cormorant is expected in the area, and the wings should clinch in case of doubt.
Distribution
Galapagos Islands on the coasts of Fernandina and Isabela
Taxonomy
This is a monotypic species[1].
Habitat
Rocky coasts
Behaviour
Diet
They eat eels and other fish, octopus, and other underwater oily animals. The young may be fed until heavier than adult.
References
Clements, J. F., T. S. Schulenberg, M. J. Iliff, B.L. Sullivan, C. L. Wood, and D. Roberson. 2013. The eBird/Clements checklist of birds of the world: Version 6.8., with updates to August 2013. Downloaded from http://www.birds.cornell.edu/clementschecklist/download/
Recommended Citation
External Links
GSearch checked for 2020 platform.1