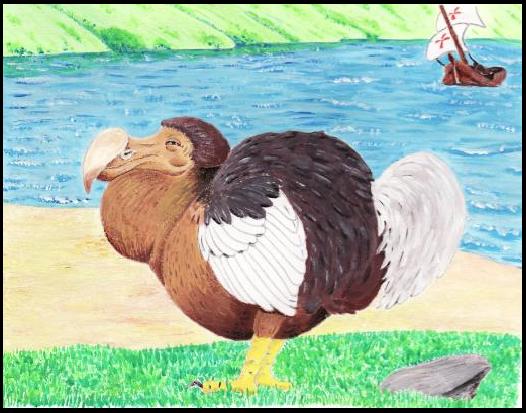 Raphus cucullatus
Identification
One-metre high
Greyish plumage
23-cm, hooked bill
Very small wings
Yellow legs
Bare facial skin
Yellow eyes
Some longer white feathers on the wings and tail
Distribution
Last seen 1662.
Taxonomy
This was a monotypic species[1].
Dodo has in the past been placed in Raphidae, together with the also extinct Reunion Solitaire and Rodriguez Solitaire.
Habitat
Forests.
Behaviour
Flightless.
Diet
The diet included fruit and seeds.
Breeding
It nested on the ground and a single egg was laid.
References
Clements, JF. 2011. The Clements Checklist of Birds of the World. 6th ed., with updates to August 2011. Ithaca: Cornell Univ. Press. ISBN 978-0801445019. Spreadsheet available at http://www.birds.cornell.edu/clementschecklist/downloadable-clements-checklist
Recommended Citation
External Links