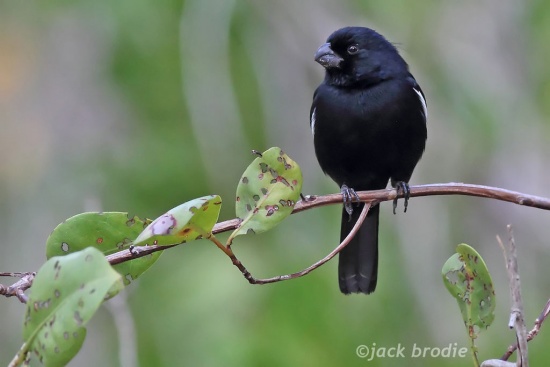 Melopyrrha nigra
Includes: Grand Cayman Bullfinch
Identification
Length: 14-15 cm (5.5-5.75 in).
Male: black with white along edge of wing; thick curved bill. At least on Cuba, the black is somewhat glossy.
Female: Cuban race is grayish-black, Cayman race is paler, more olive-gray.
Distribution
Only found in Cuba, where it is common and widespread, and Grand Cayman, where it is most abundant at South Sound Swamp, North Side and North Sound Estates.
Taxonomy
This is the only West Indian bullfinch species that does not belong to the genus Loxigilla -- upper mandible is much more curved. Sometimes placed in the genus Pyrrhulagra [5].
Subspecies taylori may be split as "Grand Cayman Bullfinch" leaving subspecies nigra as "Cuban Bullfinch" (strict sense).
Subspecies
Clements recognises the following subspecies [1]:
Habitat
Found at all elevations, in woodlands, mangroves, brushy areas, and undergrowth in pine areas.
Behaviour
Diet
The diet includes seeds, fruit and insects.
Breeding
Breeds March through August, usually until July. Both pair members construct a large spherical bulky mass with side entrance. Three to five eggs are whitish with a greenish cast, spotted with reddish brown and lilac concentrated at the larger end.
Vocalisations
Song is a thin melodious trill that ascends or descends in pitch.
References
Recommended Citation
External Links