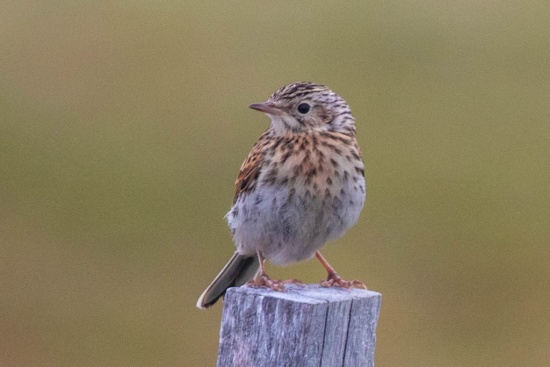 Anthus correndera
Identification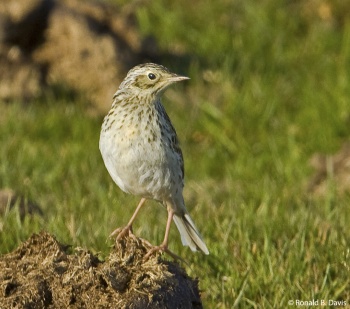 Length: 14-16 cm (5½-6¼ in)
Adult is similar to other South American pipits but is the most boldly patterned. Head, crown, ear-coverts and nape streaked black; eyering is white. Bill is black with pale base of lower mandible. Eyes are dark brown. Legs and feet are pinkish-brown. Upperparts are dark brown with heavy cinnamon-buff streaking and two longitudinal white scapular stripes on each side of the mantle. The upperwing is dusky with buffy-white edges to the wing-coverts forming two pale wingbars. The tail is dark with pale outer rectrices. Underparts are buffy-white. The breast is heavily spotted black, and the flanks are streaked black.
Sexes are similar.
Juvenile has yellowish supercilium with upperpart feathers edged whitish and the primaries edged yellow. Wingbars are white.
Distribution
They are distributed from the Andes of Central Peru to Tierra del Fuego, in lowlands in central and southern Chile and reaches across Argentina and into southern Brazil as well as Uruguay, Paraguay and Falkland Islands.
Taxonomy
Subspecies
This is a polytypic species with 5 subspecies[1]
A. c. calcaratus: darker, upperparts tinged cinnamon, rump rufous, underparts buffy.
Arid páramo of Peru (Junín, Cuzco and Puno)
A. c. catamarcae: Like calcaratus but with darker upperparts with more rufous rump.
A. c. chilensis: darker and more buffy than nominate, but with less heavy breast streaking extending to upper belly.
Southern Chile and southern Argentina
A. c. correndera: paler but more heavily streaked below.
A. c. grayi: larger than nominate with stronger bill and smaller breast streaks.
Habitat
It is found in grassland especially where there is moisture.
Behaviour
This common pipit of Southern South America is not always easy to photograph. They always seem to be moving and it is usually windy where they live and feed.
Actions
They forage by walking and running on the ground usually alone or in pairs. Often perches in the open looking around.
Breeding
Breeds from June to December, with males performing a display flight repeatedly rising 20 to 40 meters into the air, hovering and singing, before gliding back to the ground. The nest is a shallow cup of grass and finer material such as hair, concealed in a depression in the ground. The average clutch size is two to four eggs.
Diet
They eat insects and other invertebrates such as worms, grubs, spiders, and probably also seeds.
Movements
Mostly resident but in the central and southern parts of its range some migrate north after breeding in April and returning in September.
Vocalisations
Sings in flight or sometimes from perch. Male rises into the air, hovers into the wind and repeats musical phrases glishawa-glishawa, gleeweeeer… glishawa-glishawa, gleeweeeer…. with a distinctive final trill while gliding down to the ground. Flight call is a harsh trrrit.
References
Clements, J. F., T. S. Schulenberg, M. J. Iliff, S. M. Billerman, T. A. Fredericks, B. L. Sullivan, and C. L. Wood. 2019. The eBird/Clements Checklist of Birds of the World: v2019. Downloaded from http://www.birds.cornell.edu/clementschecklist/download/
Jaramillo, A. 2003. Birds of Chile. Princeton & Oxford: Princeton Univ. Press. ISBN 978-0691117409
Tyler, S. (2019). Correndera Pipit (Anthus correndera). In: del Hoyo, J., Elliott, A., Sargatal, J., Christie, D.A. & de Juana, E. (eds.). Handbook of the Birds of the World Alive. Lynx Edicions, Barcelona. (retrieved from https://www.hbw.com/node/57793 on 28 January 2019).
Correndera Pipit (Anthus correndera), In Neotropical Birds Online (T. S. Schulenberg, Editor). Cornell Lab of Ornithology, Ithaca, NY, USA. retrieved from Neotropical Birds Online: https://neotropical.birds.cornell.edu/Species-Account/nb/species/corpip1
Recommended Citation
External Links
GSearch checked for 2020 platform.1