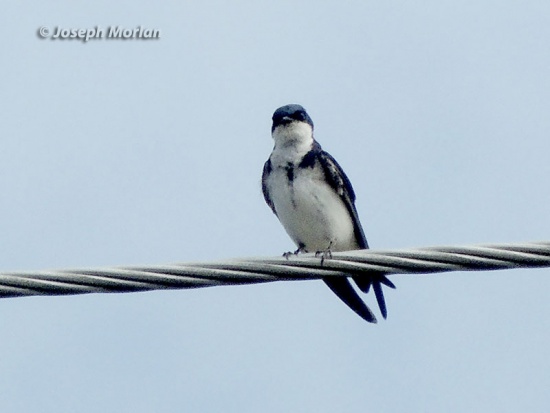 Tachycineta leucopyga
Identification
11-13cm (4¼-5 in)
Adults have glossy blue-black upperparts with white rump, white underparts including undertail coverts, and grey underwing-coverts. The lores are black, sometimes with a few white feathers. Feathers of the lower breast, especially those at the side of the breast have dark bases, sometimes producing a narrow dark mark on the sides of the breast or even a breast band when feathers disarranged. Tail slightly forked. Juveniles are similar to adults, but duller and browner above, with only the upper back and wing coverts glossy. Usually has a narrow white supraloral line.
Similar Species
South Amreica has five species of Tachycineta swallows with a white rump. The others are Tumbes Swallow, White-winged Swallow, White-rumped Swallow, and Mangrove Swallow. Chilean Swallow is more blue above than the others and lacks their greenish tones. It does not overlap geographically with Tumbes and Mangrove Swallows. White-winged Swallow easily is distinguished by the large amount of white on inner wing coverts and secondaries. Chilean Swallow is most likely to be confused with the White-rumped Swallow. Their breeding ranges have little or no overlap, but Chilean Swallow migrates north into the range of the White-rumped. In addition to the somewhat greener tones to White-rump's upperparts, White-rumped also has a narrow white supraloral line usually absent or greatly reduced in Chilean. Also, the underwing coverts of White-rumped Swallow are white, rather than light gray as in Chilean.
Distribution
South America: Breeding in Chile, and south-west Argentina. Northern populations are resident while southern populations migrate to Bolivia, Paraguay and south-east Brazil, and according to some sources, to Peru.
Reports of vagrancy to Curaçao might be in error.
Taxonomy
This is a monotypic species[1]. It forms a superspecies with the White-rumped Swallow with which it was formerly lumped. Some authorities[6] use the scientific name Tachycineta meyeni. The question is whether T. leucopyga is preoccupied, but the case made by Mlíkovský & Frahnert[7] would seem to be unassailable.
Habitat
Open habitats near water, forests, temperate grassland and pastureland.
Behaviour
Actions
Flies fast and low over the ground or above the water's surface, often in flocks, especially when not breeding.
Diet
Diet entirely insectivorous including flies, beetles, flying ants, and heteropteran bugs.
Breeding
Breeds in holes both natural such as in trees, and man-made, such as under the eaves of buildings. Nest is made of mud. The clutch is four to six white, unmarked eggs. Up to three broods may be raised each year. Solitary, or in loose groups if suitable nest sites are available.
Movements
Resident in the north; migratory in the south, moving north and east to spend non-breeding season in Bolivia, Paraguay and extreme southern Brazil.
Vocalisations
Song consists of gurgling sounds ending with lower-pitched guttural phrases. Call is a harsh, nasal, buzzy dzzk.
References
Clements, J. F., T. S. Schulenberg, M. J. Iliff, D. Roberson, T. A. Fredericks, B. L. Sullivan, and C. L. Wood. 2018. The eBird/Clements checklist of birds of the world: v2018. Downloaded from http://www.birds.cornell.edu/clementschecklist/download/
Restall et al. 2006. Birds of Northern South America. Yale University Press. ISBN 9780300124156
Marion, J. S. (2010). Chilean Swallow (Tachycineta leucopyga), version 1.0. In Neotropical Birds Online (T. S. Schulenberg, Editor). Cornell Lab of Ornithology, Ithaca, NY, USA. https://doi.org/10.2173/nb.chiswa1.01
Jaramillo, A. 2003. Birds of Chile. Princeton & Oxford: Princeton Univ. Press. ISBN 978-0691117409
Turner, A. (2019). Chilean Swallow (Tachycineta meyeni). In: del Hoyo, J., Elliott, A., Sargatal, J., Christie, D.A. & de Juana, E. (eds.). Handbook of the Birds of the World Alive. Lynx Edicions, Barcelona. (retrieved from https://www.hbw.com/node/57708 on 25 January 2019).
Mlíkovský, J., and S. Frahnert. 2009. Nomenclatural notes on Neotropical swallows of the genus Tachycineta Cabanis (Aves: Hirundinidae). Zootaxa 2209: 65–68
Recommended Citation
External Links