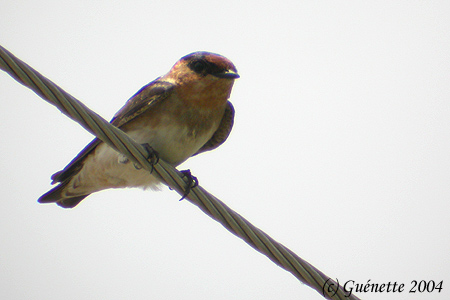 Petrochelidon fulva
Hirundo fulva
Identification
12-14cm
Grey-blue upperparts
Dull white underparts
Dark blue-black crown and back
Buff face and throat
Cinammon forehead
Orange rump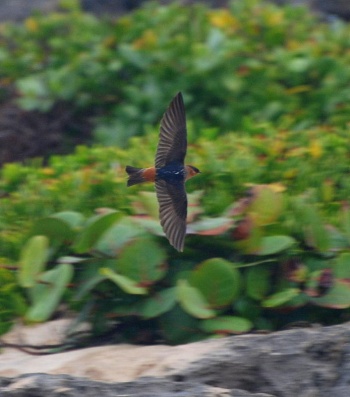 Narrow white streaks on back
Pale brown collar
Brown wings and tail
Black iris and bill

Sexes alike
Distribution
See taxonomy.
Now found annually in the Great Lakes and Atlantic Coast regions in November.
Taxonomy
It has been proposed that it should be split into two species, but at present most authorities do not recognize this split:
(Mexican) Cave Swallow (Petrochelidon pallida): Nest in northern Mexico and the US states of New Mexico, Arizona, and Texas. Most spend the winter in or near El Salvador, but a few stay in S. Texas and north-central Mexico. Monotypic.
Cinnamon-throated Swallow (Petrochelidon fulva): Nest in the Caribbean, southern Florida and southern Mexico. Resident in Puerto Rico, Hispaniola, and Jamaica, but other populations are mostly migratory: absent from Florida and mostly absent from Cuba during winter, while the winter range of the southern Mexico population deserves further study. Includes subspecies citata, cavicola, poeciloma, and puertoricensis.
Data from mtDNA suggest this split may be more appropriate if including citata from southern Mexico as a subspecies of P. pallida, and thereby essentially ending up with a western (P. pallida) and an eastern species (P. fulva).
Has been known to hybridize with the Barn Swallow and may be better included in the same genus, in which case it would become Hirundo fulva. If this is accepted, race pallida (or species, if following the split) must be renamed pelodoma, as the former name is preoccupied in the genus Hirundo. However, DNA data indicate that the genera Hirundo and Petrochelidon are not each others closest relatives.
Habitat
Open areas near water.
Behaviour
Diet
The diet includes flying insects.
Breeding
They nest colonially building a cup nest from mud, lined with grass. The clutch consists of 3-5 white eggs with dark spots.
References
Clements, J. F., T. S. Schulenberg, M. J. Iliff, D. Roberson, T. A. Fredericks, B. L. Sullivan, and C. L. Wood. 2014. The eBird/Clements checklist of birds of the world: Version 6.9., with updates to August 2014. Downloaded from http://www.birds.cornell.edu/clementschecklist/download/
[ SACC baseline] read September 2009
All About Birds
Recommended Citation
External Links
Search the Gallery using the scientific name:
Search the Gallery using the common name:
GSearch checked for 2020 platform.